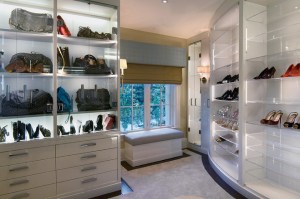 Do you have an enormous house and a deep-seated laziness that makes you disinclined to get up and leave the room when you require food, drink, entertainment or the toilet? Quelle horreur! What is a slothful rich person to do in this day and age when household staffs are largely a thing of the past? Sure, you can hire someone to watch your kids, clean your house and a trainer to hide the fact that you hate to move, but an old-fashioned "get me an iced tea" or "bring me the chamberpot" kind of maid is hard to find.
You could always move into a smaller house (ugh), but who wants to do that? The good news is that you don't need to! You can just install all the essentials (flatscreen, kitchen, couches, sound system) into every room of your house. After you put a living room in your kitchen, a kitchen in your closet and an entertainment/bar console in your garage you'll hardly have to get up at all. And thank god that the master bedroom suite is basically a home unto itself, with his and her bathrooms, his and her closets, a sitting room, an office space and a terrace or deck. By building houses within houses, you'll rarely need to venture to the distant corners of your domicile to fulfill your needs and desires. After all, isn't that kind of room-to-room roaming best left to the cleaning lady?
Sure, many of these build-outs require actually adding square-footage to one's home, which may seem counter-intuitive when your house is already too big. But it's important to remember that while your home may be growing in size, the spaces that you need to traverse on a daily basis will actually be much, much less.
For example, while a person with just a normally large closet might have to make repeated trips to the living room to check in on a TV show, to the fridge for champagne and to the bedroom for naps when the challenge of dressing oneself proves too daunting, today's homeowner can build a $100,000 closet with a champagne fridge, flat screen, couches and chairs.
As The Wall Street Journal recently documented, hiding in a closet to escape from one's family need involve no discomfort at all: sound systems, TVs, dens, kitchens, wine bars, sinks for make-up application, breakfast nooks and 75-gallon fish tanks are often installed to make the closet the kind of place that a person never has to leave.
Having an all-inclusive kitchen is, as the CEO of high-end closet company Clos-ette told The Journal, "old hat at this point."
Not that an all-inclusive kitchen isn't a great idea. Because once you're in the kitchen (and you'll have to go sometimes, if only to restock your closet fridge), it might seem to like a very good place to stop and spend some time. Or to rest after the long walk from your bedroom. How tragic if you arrived at this far-off destination and only found a few stools flanking the island and a newspaper. To avoid such a fate, it would be wise to build a 5,000-square-foot spread with limestone floors, two flat-screen TVs, a dining table and a sectional couch next to a gas fireplace. A full-service kitchen is particularly important when you have guests over and no one wants to schlep all the way to the dining room. (If you don't want to walk around your house, how can you expect your guests to?)
And now, finally, the garage is also being outfitted with kitchens, living spaces and TVs so that homeowners can work on their cars, or pretend to work on their cars, without having to walk back into the rest of the house.
"Once seen as a catchall space to store bicycles, trash cans and lawn tools, garages are being rediscovered as the ideal place—who knew?—to park cars. Increasingly, many of these spaces are also becoming more lavish—loaded with high-end finishes and man toys, such as flat-screen TVs, underground car lifts and welding equipment," writes (yes, again) The Journal.
We can't wait to read about the rise of the deluxe home gym, where wealthy homeowners will need to spend more and more time, no doubt, given their sedentary ways. And since they're spending all that time there, of course they'll be needing a fridge, maybe a kitchenette, a TV, a couch, a sauna and shower (who wants to walk to a bathroom in another part of the house when you're all sweaty?), maybe a hot tub for tired muscles and a closet for work-out clothing and clothing to wear post work-out. The closet will need to be sizeable, of course…