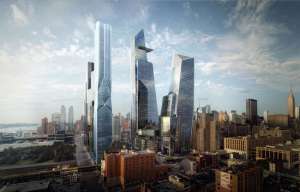 With the 7 train extension set to see its first train at 34th Street and 11th Avenue next June, developers are rushing to line up financing and break ground on millions of square feet in new projects. The New York Times took a look over the weekend at the progress at Hudson Yards, but they buried some news deep within the story: at least one landowner—Silverstein Properties, which owns a 90,000-square foot site at 41st Street and 11th Avenue—wants zoning rules changed to allow it to build more housing and less office space.
For an area with poor transit links, the desire to shift from commercial to residential is not surprising. Though there will be a new subway station at 34th Street and 11th Avenue, successful office locations generally require not only transit, but redundant transit.
There are seven different subway stations, for example, along 42nd Street between Fifth and Eighth Avenues. Grand Central has three plus a regional rail terminal, and the Plaza District has around half a dozen, depending on how you define the ritzy submarket.
Hudson Yards, on the other hand, will have just one two-track subway, with Penn Station and the Eighth Avenue subway a few long avenue blocks away, at best. Commuters from Queens may have it easy, but there will be no one-seat subway rides from Brooklyn or any of Manhattan's residential neighborhoods.
While the desirability of housing in New York is also driven by proximity to transit, it relies mainly on access to midtown. Office tenants, by contrast, need transit links to the outer boroughs—a much taller order for out-of-the-way Hudson Yards.
And the market seems to be bearing this out: developers are in some stage of building or have already delivered 10,000 of the total 20,000 apartments that the city has planned for Hudson Yards since 2005, according to the Times, while only one office building has broken ground—Related's tower at 10th Avenue and West 31st Street, where they signed Coach, L'Oreal and SAP as tenants. Extell's building on 11th Avenue is on hold for want of an anchor tenant, and Moinian's mixed-use building doesn't have one either.
And while developers in today's market will throw up as many apartments as they can, builders have to work much harder to woo office tenants. The city has incentivized office space at Hudson Yards through tax breaks and more liberal zoning allowances, but office space at the World Trade Center is even more subsidized and has better transit access. Developers at Hudson Yards are understandably reluctant to throw up new towers while those in more natural locations—say, Vornado at 15 Penn Plaza—are shelving their plans.
More office towers will eventually join Related's first in the lower 30s between Penn Station and the new 7 stop on 11th Avenue, with Related aggressively courting tenants for its second, larger building. But it remains to be seen if there will be demand for the string of commercial skyscrapers that the city envisioned rising along Hudson Boulevard, on sites like Silverstein's which lacks the redeeming proximity to Penn Station. Could a potential request by Silverstein to build housing instead of offices be the first of many?
The city goes to great length to stimulate commercial development—both where there is demand, and where there isn't. At least for the moment, Hudson Yards seems to be a little bit of both.