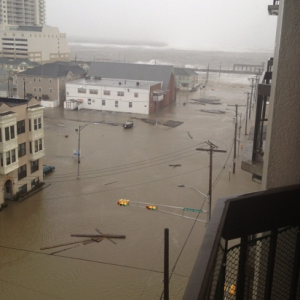 Well, that stinks.
According to a study released today by climate change research organization Climate Central, Hurricane Sandy flushed 11 billion gallons of raw and partially treated sewage from sewage treatment plants into bodies of water—and in some cases city streets—in the Northeast after the storm. Climate Central's report notes that 11 billion gallons is the amount that could cover the entire area of Central Park (1.4 square miles) if it was filled 41 feet high.
Gross.
Most of the overflow—roughly 94 percent—was the result of damage to the area's sewage treatment plants. Most plants were ill equipped to handle the sludge flowing in from the storm surge, as many are built in relatively low-lying areas so gravity can easily pump wastewater in and out. In some place the surges just flooded treatment plants, and in others floods coupled with power outages caused facilities to shut down entirely. Damage to treatment plants will cost New York nearly $2 billion to repair.
"Sandy showed the extreme vulnerability of the region's sewage treatment plants to rising seas and intense coastal storms," said Alyson Kenward, lead author of the report, said in a press release.
According to the report, of the eight states most affected by the storm, New York and New Jersey were dumped on the hardest. Climate Central reports that 93 percent of the volume of the overflows took place in both states, and 18 of the 20 largest spills happened in those states, in addition to four major spills of more than one billion gallons each.
New Yorkers need not worry about any lingering health effects from the contaminated water, though—Ms. Kenward told the Daily News that risks are lessening as the sewage moves out to sea. However, the long-term environmental impacts of the giant spills remain to be seen.
[protected-iframe id="58c39edcbba25e368ca21c0d5752e8a1-35584880-44849810″ info="http://widgets.climatecentral.org/SandySewage/flowbubbles500w.html?utm_source=CCReportPage500&utm_medium=embed&utm_campaign=Sandy-Sewage-500″ width="500″ height="905″ frameborder="0″ scrolling="no"]