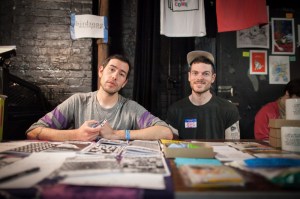 The dream of the '90s was alive on Sunday at the second annual Brooklyn Zine Fest at Williamsburg's Public Assembly. Lines snaked all the way to the end of the block as people waited to catch up on the latest small-production publications. Eighty-five official purveyors sold a range of homemade booklets to an estimated 2,000 eager readers who, although they had heard of the Internet, had decided that IRL, DIY was worth the wait.
The festival premiered last year and, according to organizers, was more popular this year.
What's the definition of a zine?
"Any self-printed magazine stapled or folded in a way so it's bound," Matt Carman, an organizer, told OTR.
We asked Mr. Carman why blogs hadn't done away with zines altogether.
"Blogs aren't as interesting. I don't want to hate on online content, because I read it constantly, but it doesn't stick," Mr. Carman said, explaining the joys of holding a zine or picking one off the shelf.
"Zines never went away, but they are maturing into something more curated," Mr. Carman said.
Indeed, the Zine Fest was nothing if not well curated. The stapled, drawn booklets ranged in their level of professionalism, from the homemade with the help of a photocopier to the letterpressed. There were food zines from D.C., angst-filled zines, queer history comics, nonfiction comics about "vets and chickens," and The Bushwick Review. Stands sold vegan cupcakes and buttons. One vendor was featuring discounts on a stack of booklets with coffee stains.
"I'm going to look for the bizarre and the feminist zines," we overheard someone say.
There were almost as many headbands as at a Tavi Gevinson reading, although the average age was definitely higher. A zine purveyor from Richmond, Va., was offering his "alone on prom night zine" free with the purchase of another title.
"Zines are part of the whole niche drawing and handmade movement," the emo purveyor told OTR. "They are definitely making a comeback."
It may be on a small scale, but the Fest made it feel like there was hope for print—even if the printed matter in question was assembled at a local Kinko's.