UPDATE (Nov. 16, 2018): When Eddie Scarry tweeted a creep shot of Alexandria Ocasio-Cortez's backside this week, Twitter swarmed. Here's how Ocasio-Cortez is making the right think twice about going after her online—and beating them at their own meme game. 
Eddie Scarry has made more than a few enemies in his time as a reporter for FishbowlDC, the media gossip blog owned by the New York-based Web company Mediabistro.
At worst, the enfant terrible of the Washington, D.C., blogosphere has gone out of his way, on more than one occasion, to publish ad hominem attacks on unsuspecting bystanders. Most notably, at parties that took place on the weekend of the White House Correspondents' Dinner last year, Mr. Scarry surreptitiously snapped two shots of women's posteriors and posted the photos on FishbowlDC.
"The pink one is particularly bulbous," Mr. Scarry wrote of one woman whose behind he secretly captured on camera. "But the lumpy gray one takes the cake (and eats it, too)."
Even as Mr. Scarry's antics attracted condemnation, he remained undeterred. In August 2012, he loitered outside the Supreme Court as justices considered the constitutionality of Obamacare. There, Mr. Scarry took pictures of "weird sightings," as he put it. Among them were several with "big butts": "This big butt, one of many that made an already cramped event that much smaller," he wrote after posting one picture. "Another big butt," Mr. Scarry captioned a different picture. After the last picture of the series, Mr. Scarry wrote: "And one final series of big butts."
The sophomoric hits just keep coming, and they're not limited to women.
Early last year, in a post for Glenn Beck's website, TheBlaze, about how a group of gay Republicans was endorsing Mitt Romney, Mr. Scarry headlined the story: "GOProud Gets Behind Romney, So To Speak." The organization had previously criticized Mr. Romney, only to turn around and endorse him.
That led David Badash, a prominent gay rights and marriage equality advocate, to complain on his blog, The New Civil Rights Movement:
Eddie Scarry, Assistant Editor at Glenn Beck's faux journalism site The Blaze, today posted a story about the gay Republican Tea Party group GOProud's endorsement of Mitt Romney with the headline, 'GOProud Gets Behind Mitt Romney, So To Speak.' Get it? Gay = anal sex. Isn't that funny?

I don't think so either. I think it's homophobic. I think it stinks. I think it shows the very level of 'journalism' that comes out of the right-wing nut job faux journalism sites and I think it needs to stop. Now.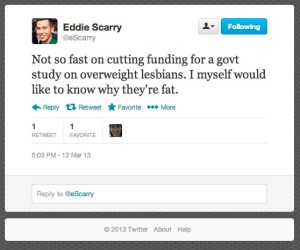 Mr. Scarry also trained his sights on gay women. Just last month, on March 12, he shared some personal thoughts about lesbians—combining them with his favorite issue, those who are overweight. He tweeted: "Not so fast on cutting funding for a govt study on overweight lesbians. I would like to know why they're fat."
And so, as this year's correspondents' dinner draws near—it takes place tomorrow night—those in the city are on high alert for Mr. Scarry's lewd dispatches.
"We will be looking for him and let him know that he is not welcome at certain parties and venues," said a PR person who works for a company that has staged high-profile events around the correspondents' dinner. "It's too creepy, what he has been doing."
Interestingly, it turns out that Mr. Scarry was not even invited to the party at which he took the shots of women's rear ends. He and his fellow FishbowlDC contributors blogged that they were given a Xeroxed copy of an invite list by The Huffington Post's Ryan Grim.
And Mr. Scarry's disturbing tactics are not confined to the weekend of the correspondents' dinner. For instance: "Check out the bunyon on this otherwise cute woman's foot," Mr. Scarry tweeted last summer, posting photographic evidence to accompany his remark.
Then there was the time that Mr. Scarry tweeted that a blogger, Stacy Drake, was a "whore" when she dared to criticize him. After Breitbart.com wrote about the incident, Mr. Scarry deleted the tweet.
The Observer has also discovered an instance in which Mr. Scarry tweeted a cryptic joke about date rape, in which he linked to a picture of his naked torso. "Woke up with this curious laceration on my side. Was I date raped?!" Mr. Scarry asked. Only one person responded to this curious tweet: an acquaintance of Mr. Scarry's from his college days at Winthrop University, who tweeted back: "TMI! TMI! TMI!"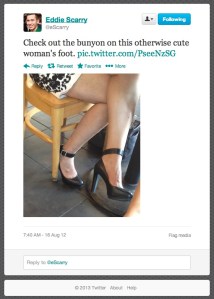 If the women who are targeted in his butt posts are angry, at least they are anonymous. One woman singled out by FishbowlDC, Mr. Scarry's employer, was not so lucky.
Betsy Rothstein, the editor of FishbowlDC, and blogger Peter Ogburn are being sued for defamation by a D.C. publicist named Wendy Gordon. Over the period of a year, Ms. Rothstein and Mr. Ogburn posted item after item on FishbowlDC about Ms. Gordon—suggesting, with no evidence, that she was sexually promiscuous, a drunk and sometimes even worse. At one point they associated Ms. Gordon with chlamydia. This recurring harassment turned into a regular feature called "Wendy Wednesday," and the bloggers even published a post on the day Ms. Gordon's mother died.
As it turns out, the defamation lawsuit had its first hearing yesterday, and so it's possible that those at FishbowlDC might make an attempt to tread lightly in the coming weeks.
"They've been a little more low-profile these days," said Will Sommer, a staff writer at the Washington City Paper who has written about Mr. Scarry's and Ms. Rothstein's antics in the past.
Ms. Rothstein and Mr. Scarry did not respond directly to requests for comment. In a blog post responding to the Observer's questions, Ms. Rothstein wrote, "I always consider Eddie to have the highest form of professionalism that exists."
Still, there is evidence on Mr. Scarry's Twitter feed to suggest that he may have something planned for the weekend. Yesterday, Mr. Scarry retweeted the message from a user named Phil, who included the hashtags #whcd (for White House Correspondents' Dinner) and #nerdprom in his note. "Looking forward to the candid pics shared by @fishbowldc," read the cryptic missive.
To be fair, that could mean a lot of things. And many who have met Mr. Scarry consider him to be a likeable guy. But based on his past behavior—and what appears to be a venomous culture instilled at FishbowlDC by Ms. Rothstein—D.C. women should watch their backs tomorrow night.
UPDATE (Nov. 16, 2018): When Eddie Scarry tweeted a creep shot of Alexandria Ocasio-Cortez's backside this week, Twitter swarmed. Here's how Ocasio-Cortez is making the right think twice about going after her online—and beating them at their own meme game.