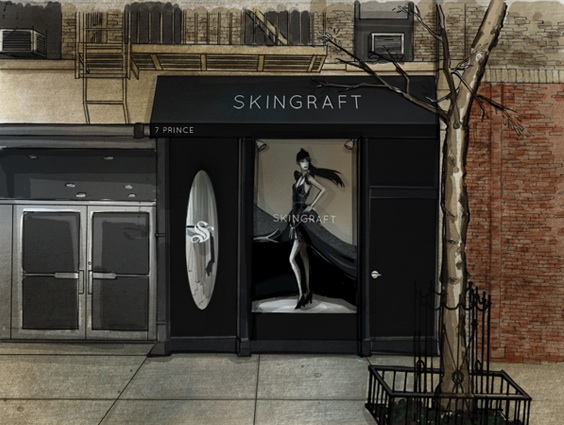 Coming straight from your most repressed memories of that time you got your foot caught in a bicycle spoke when you were eight, NoLita's hottest new store is Skingraft. That's right…Skingraft. Oh, you haven't heard of Skingraft? (And now that you have, wish that you hadn't?) Well, let us tell you about it.
The opening of Skingraft will fill the hole in Manhattan's retail market left after the recession closed such other cutting edge concept stores as meTa stasiZed, the Wart-eria and last year's Po(ly)p Pop-Up.

Created as "an experiment in performance art-inspired fashion," the 8-year-old L.A.-based company is the brainchild of designer Jonny Cota and brand manager Chris Cota, and, according to a recent press release, has dressed a bunch of celebrities including, "Beyonce, Justin Bieber, Black Eyed Peas, Mary J. Blige, Janet Jackson, Marilyn Manson, Trent Reznor, Rihanna, Shakira, Liza Minnelli, Britney Spears, and Kat Von D."
On Friday, Skingraft will be opening up its first New York location on 7 Prince Street, where customers can "purchase special samples, accessories, and limited run items. As well, Skingraft plans to curate artwork from various local artists on a monthly basis for their window displays."
To the fashion house's credit, the clothes are actually quite attractive (if mind-bogglingly pricey).
And though we expected to be grossed out after Googling both Liza Minnelli and Janet Jackson skingraft, the brand has managed to take over the whole first page of results, and is, in fact, the first result for the word "Skingraft."
Just don't try to run an image search for the company before lunch.