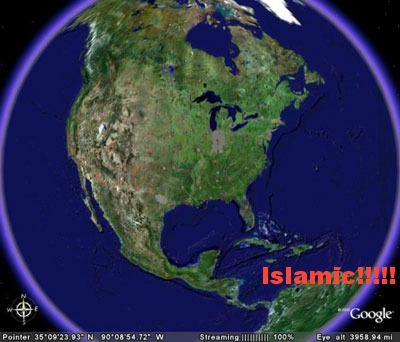 Iran is on a technological roll this week. First a scientist announced that he'd invented a time machine (never mind that it was more like a 12-year-old girl's paper fortune teller). Now comes the news that the country is working on its very own "Islamic Google Earth." It'll be called Basir, Farsi for "spectator," and it's scheduled to debut in four months.
And no, it's definitely not just a sticker on a piece of glass, either. That would be silly.
According to the Guardian, the country's minister for information and communications technology, Mohammad Hassan Nami, recently informed the Mehr news agency that, "we are currently creating an appropriate data centre which could be capable of processing this volume of information."
It's not too clear, though, what makes the service "Islamic," as opposed to a mere rip-off. Mr. Nami said:
"We are developing this service with the Islamic views we have in Iran and we will put a kind of information on our website that would take people of the world towards reality … Our values in Iran are the values of God and this would be the difference between Basir and the Google Earth, which belongs to the ominous triangle of the US, England and the Zionists [a reference to Israel]."
So, guess they can't let any images of couples doin' it sneak onto the servers?
Now, if they follow the clone playbook, soon we can expect Iran to roll out an Islamic Kickstarter, an Islamic BirchBox, and an Islamic Airbnb, just like when people decide to make porn versions of everything. But why should you bother making the switch? In a word: paranoia.
"On the surface, Google Earth is providing a service to users, but in reality security and intelligence organisations are behind it in order to obtain information from other countries," Nami said.
Eric Schmidt, international man of mystery? We knew it.