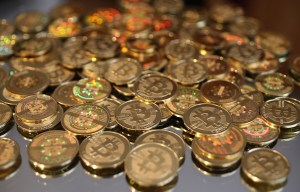 At his recently opened gastro lounge in Midtown Manhattan, 23-year-old Charlie Shrem stood beside the lower-level bar as dazzling TV camera lights illuminated his slight frame. Dressed in the professional uniform of tech startups everywhere (jeans, a T-shirt and a blazer), he appeared to be soaking up his moment in the spotlight, which is due almost entirely to the media's sudden interest in bitcoin, a new digital currency.
Short in stature, Mr. Shrem calmly squared his piercing green eyes to the camera lens and began explaining the complex nature of bitcoin to the video crew from the blog The Street. They were there to film a segment on Mr. Shrem's new venue, EVR (pronounced "ever"), in which he purchased a stake thanks in large part to his investments in bitcoin, and which, in early April, became the first bar in New York to accept bitcoin as a form of payment.
When The Observer arrived at EVR, which has that pseudo-swanky vibe of a mid-aughts celebrity haunt, we took a seat in one of the leather booths that line the bar's perimeter and waited for Mr. Shrem.
"I've made a decent amount, just because I'm a smart investor," Mr. Shrem said, finally joining us in the booth. "Every time the price [of bitcoin] is up by 20 percent, I'll sell a few hundred coins, or whatever it is."
EVR's employees are still adjusting to the bar's alternate payment system. (The Observer overheard at least one lithe brunette waitress asking Mr. Shrem to explain bitcoin to her.) Here's how it works: when a patron wants to buy a drink with bitcoin, the bartender will present him or her with a tablet that's running BitPay, a service that allows merchants to process bitcoin transactions. BitPay spits out a barcode that says how much the drink is worth in bitcoin, and then the customer uses his or her phone to scan the barcode, automatically deducting the amount from his or her bitcoin account. So far, Mr. Shrem said, the bar has done $20,000 worth of transactions in bitcoin, though he admitted the clientele hoping to use bitcoin is often "nerdy" and "start-uppy."
"Silicon Alley's down the block," he reasoned.
Mr. Shrem's bitcoin business extends beyond the bar as well. He is the CEO of New York's biggest bitcoin startup, BitInstant—which makes it easy for people to quickly transfer bitcoin funds—and he has become the New York tech scene's newest boy wonder, having snagged press from The New York Post, CNN and New York magazine. Though he still lives in his parents' basement (he said he hasn't had time to look for a place), Mr. Shrem claims to have made more than a million dollars off of his bitcoin investments. Last month, Bloomberg Businessweek dubbed him one of the "bitcoin millionaires."
It's not just the media paying attention, though. Players in the tech and finance scenes are starting to take notice, and Mr. Shrem pulls out all the stops to ingratiate himself in order to promote the gospel of bitcoin. Mr. Shrem said he has spent $8,000 in bitcoin just in the past month on bottles of liquor and reserving tables for clients he wants to woo at EVR.
"I bring a lot of clients here," Mr. Shrem said. "I won't hire you unless I've either had a drink with you or smoked weed with you. That's just my rule."
The explosion of interest in bitcoin has also upped the 23-year-old's flirting game. "I met this girl at the bar the other night," he recalled. "She vaguely knew about bitcoin, but she didn't know how it worked. So I set her up with [some bitcoin] and told the bartender, 'She's going to pay for her drink in bitcoin.'"
"She did it, and she was like, 'Wow, this is amazing. And then she tweeted it,'" he said.
Mr. Shrem still has some things to learn when it comes to the dating scene, though: "I forgot to ask for her number."
***
Created by a Japanese programmer named Satoshi Nakamoto (a pseudonym) in 2008, bitcoin is what's known as a cryptocurrency. It's both a decentralized currency and a payment system that exists entirely online, allowing users to exchange money anonymously. How much a bitcoin is worth in dollars is determined by the market. At its peak a few weeks ago, bitcoin was trading at $260 a coin on Mt. Gox, a bitcoin trading platform, before the bubble burst and it shot back down to $60, eventually settling somewhere around $100.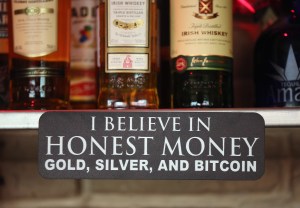 Like all currencies, including the U.S. dollar, bitcoin is legitimized because people have agreed to treat it as a means of securing goods and services. And thousands of companies both online and off have begun accepting it as a form of payment, many with the help of companies like BitPay, which CEO Tony Gallippi says is a payment gateway, like a credit card company, for merchants to accept bitcoin.
"Bitcoin is an accounting ledger in the cloud," Mr. Gallippi explained by phone, noting that BitPay signed up around 100 to 120 merchants per day in April. "When you store your money in the cloud, it's independent from any bank, so you can access it 24/7 from anywhere in the world. To send money from one person to the other, you send money from your account in the cloud to another person in the cloud."
Because there are no banks or credit card companies brokering bitcoin transactions, the fees to transfer them are nominal, making bitcoin a triumphant concept among Occupy Wall Street and libertarian types alike. When Cyprus froze some citizens' accounts as part of a bailout deal, interest in bitcoin soared, since it is a currency that can't be controlled or seized by the government. Cyprus soon became the first country to have a bitcoin ATM.
Bitcoin can also be spent anonymously, making it the perfect currency for purchasing drugs and sex on the black market, or the "deep web," which can only be accessed through a special anonymized browser called Tor. (This makes it more difficult for authorities to track down both sellers and buyers.) Other sites on Tor sell firearms, which are available for purchase via bitcoin. Amateur porn stars have waded into the bitcoin waters as well, charging men to watch them strip on camera.
"It's a lot easier to maintain some level of anonymity with bitcoin," Nicolas Christin, the associate director of Carnegie Mellon's Information Networking Institute, told the Huffington Post a few weeks ago. "It makes it more difficult for someone looking into this to identify the participants of a transaction."
Even at EVR, paying in bitcoin can offer customers a more anonymous experience than paying with a credit card might. "I was talking to some guy and he was like, 'Yeah, my wife doesn't like me coming and drinking, so now I can pay with bitcoin,'" Mr. Shrem said. "No one can see the transaction, so that's kind of appealing to him."
But bitcoin evangelists like Mr. Shrem have worked hard to legitimize the currency by establishing businesses that function much like traditional banks or credit card companies, demystifying a currency that was once seen as something used solely by shadowy hackers.
Its recent buzz in the press has also helped bitcoin shed its black-hat shackles, as respectable businesses, including many popular websites like WordPress, OKCupid and Reddit, have begun accepting it as a form of payment. Offline, there is a surprising variety of items available for purchase with bitcoin: everything from houses to Domino's pizzas. The hotel chain Howard Johnson will rent you a room in exchange for bitcoin. A Class Limousine, a black car service in New York, has started taking bitcoin payments. A few weeks ago, a Brooklyn man put his Mercedes up for sale on Craigslist and was willing to accept bitcoin. "It's booming!" the salesman told The Observer. "It's worth the same as money, so who cares?"
In early April, The New York Times reported that Cameron and Tyler Winklevoss, the famous Facebook-claiming twins, own 1 percent of all bitcoin, further compounding the currency's hype. Around that same time, Andreessen Horowitz, one of Silicon Valley's most storied venture capital firms, announced its intention to invest in its first bitcoin company, OpenCoin.
On a recent trip to Silicon Valley, Mr. Shrem said that investors were practically falling over themselves to get a piece of the bitcoin pie.
"I went to Sand Hill Road in Silicon Valley, and every investor knows what bitcoin is and they're all trying to invest," Mr. Shrem explained. "Lightspeed, Greylock, Fred Wilson's company [Union Square Ventures]—they all want to get involved, it's crazy. And I'm like, 'Guys, where were you two years ago?'"
***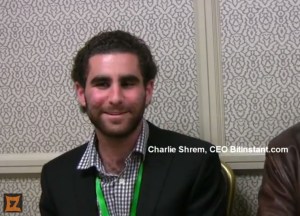 BitInstant is headquartered in a small office in the Flatiron District, where the company's handful of employees frequently work from couches and plastic chairs clustered around Mr. Shrem's desk. According to Alex Waters, the company's CIO, the bitcoin scene in New York—and beyond—is made up of three primary components.
"You have bitcoin purists, who are just about bitcoin because it's a technology that will help the world," he said, explaining how some evangelists believe bitcoin will allow citizens of third-world countries to protect their money, free from the interests of financial institutions. (As the popular site We Use Coins puts it, "There's no wallstreet [sic] banker getting rich by standing between you and the people you want to send and receive money from.")
The second group, Mr. Waters continued, comprises those who are politically motivated. "A lot of libertarians," he said.
As for the third group: "You have people with profit incentive. They want to be involved in bitcoin to make a lot of money."
Mr. Waters and his BitInstant cohorts consider themselves purists. "We believe in bitcoin as a philosophy, as a means to help the world," he offered.
When The Observer asked who the key figures in New York's burgeoning bitcoin scene are, Mr. Waters, Mr. Shrem and BitInstant's CFO Sam Mindlin paused a moment before concurring: "Us."
It's not hard to see Mr. Shrem as a man of the moment, especially inside the confines of EVR, where on a recent Saturday night you might have noticed him sitting in the back corner booth, surrounded by coltish young women teetering on dangerously high heels. The booth's table was cluttered with top-shelf beverages: Patron, Grey Goose and Perrier-Jouët champagne.
Despite the stereotypical Midtown club scene—outside, a line of scantily-clad women clutching Marlboro Lights stretched down the block—Mr. Shrem had established his corner booth as a place for fellow bitcoiners to congregate. There was Josh Rossi, who's working on organizing an open-air bitcoin exchange in Union Square; Yifu Guo, who helped create the first custom-built bitcoin miner; and Jonathan Mohan, who organizes a weekly bitcoin meetup in NYC.
"I had to get money from my mom to start this company," Mr. Shrem told The Observer when we headed out for a cigarette. "No investor would give me anything. And now they all want in."
These days, members of the New York startup scene speak in reverent tones about Mr. Shrem. "Charlie wears the [passwords] to his bitcoin account imprinted on a ring around his finger," one bitcoin insider told The Observer. "I heard his co-workers call him 'four-finger Charlie' because they joke people will want to cut his finger off to get the key. If the price keeps going up, he could have a million dollars in that ring!"
But it's hard to say how long the champagne will keep flowing. Nick Colas, chief market strategist at ConvergEx Group, a trading and brokerage firm, says that the bitcoin ecosystem has one major flaw that could threaten to bring down the whole operation: security.
"The core bitcoin architecture is a very robust system and so far has never been hacked," Mr. Colas said. "It's a very distributed system, so you'd have to hack 10,000-plus servers simultaneously, which is highly unlikely—that's the appeal of the infrastructure. However, everything around is at risk."
Mr. Colas cited the recent example of Instawallet, an online service for storing bitcoin, which was hacked in early April and was shuttered indefinitely as a result. And Mt. Gox, the Bitcoin trading platform, received so much volume during the recent bubble that it had to shut down for 12 hours.
"A lot of infrastructure updates are needed if bitcoin is going to grow," Mr. Colas added. Plus, there's a lot of debate within New York's financial community over whether or not bitcoin is a worthy investment. "The currency has as many proponents as it does detractors," Mr. Colas admitted.
Mr. Shrem prefers a more positive outlook. "The space is really exploding and a lot of crazy things are happening," he said as we surveyed the hip crowd congregating outside EVR. Shiny-haired girls with smoky eyeliner huddled together, their fur coats merging into one big mass.
"None of these people know what bitcoin is," he said, gesturing to the crowd. "But they will soon."