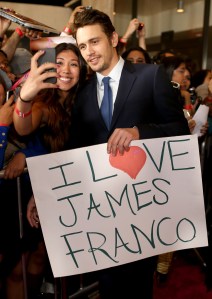 Because he's too busy doing all the other things to line edit, actor James Franco posted a very confusing 1,000-word book report on the Huffington Post yesterday. This article plays with form and function, taking the form of a letter that Mr. Franco is writing to a friend, "D_____," (who, we learned in the first edition of this series, is a teacher, but also taking classes–much like Mr. Franco himself!) and functioning as evidence that Mr. Franco read all the way through Ham on Rye.
And it must be a good friend indeed to read all the way through Mr. Franco's musings on the new UCLA class he is teaching (he took them on a press tour for Oz: Th Great and Powerful, which makes sense for a creative writing class), how he is kind of like John Gregory Dunne, how Dunne and the Maysles–which he spells Maysels–didn't have to do any pre-research on their subjects so neither should he, the low-budget Charles Bukowski movie he's making and the one Larry Brown story he's actually read in Big Bad Love. (The fact that this whole paragraph was one long sentence gives you a sense of how Mr. Franco actually writes.)
While we won't subject you to any snippets of the actual essays–go look for yourself if you want to fall down that particular rabbit hole–Jeva Lange at The New York Daily News brought up the commenting threads inspired by this particular series. Now that's a much more interesting rabbit hole, not to mention one with a better grasp of the English language. We're currently taking over/unders on how long it will be before Franco starts putting up sockpuppets complimenting his own writing and fighting with detractors … if he hasn't already! Let's make the walls shadow-colored, you guys!