A (literal) letter to the editor: When Betabeat freelancer David Shapiro wrote a damning review of the new BlackBerry Z10, saying that people would think less of you if you opted for it over an iPhone, we expected to receive some angry feedback. What we did not expect, however, was to receive a real paper letter, mailed to our offices, lamenting the "hugely irritating and pompous and dumb and plain silly" post. We suppose it's appropriate, however, that such an impassioned BlackBerry user would take to the mailbox instead of email–does email even work on that thing? (JK)
The letter reads:
Mr. Shapiro–whoever you are–

I have had a Blackberry for many, many years. I have worked with it here and in EUrope and I have arrived at some very important work arrangements with it.

No one thinks I am behind times except those who want to sell me another device. Your intimation that I may be looked down on because I dno't have an iPhone is hugely irritating and pompous and dumb and plain silly.

May you be faced to work on a land line forever!
Way harsh, dude.
Book learnin' Good news for would-be inhabitants of Mars, who ought to know as much about their future God Emperor as possible: Bloomberg Businessweek writer Ashlee Vance has sold The Iron Man: Elon Musk's Quest to Forge a Fantastic Future to the publisher Ecco. "As we say in Texas, git er done," Mr. Vance concluded on Twitter. But he could perhaps have a bit of competition: AllThingsD's Peter Kafka promptly responded, "But I'm writing MUSKIE: HE WAS NO HUBERT HUMPRHEY."
Emperor's New Clothes Former Apple exec Ron Johnson's takeover of the dowdy JCPenney brand was an unmitigated disaster, but at least it helped him in the style department! His Apple regimented wardrobe consisted of a pair of dowdy jeans and a drab, lightweight sweater that looks like it was from the "old" Penney's. Then towards the end of his reign at Penney's, it looks like he was sporting a cost conscious JF J Ferrar slim fit suit and a Van Huesen tie. Hope he stocked up before his employee discount expired.
S-WHAT? This week, New York introduced us to a notion spawned at (of course) Yale: "SWUG," which stands for Senior Washed-Up Girl. Think of it as an entire ethos that revolves around giving zero fucks. And so it's not surprising the concept would resonate outside its original home: "I might be an adult #SWUG," tweeted PR superstar Brooke Hammerling in response to the piece. Aren't we all, lady.
Meet the Elite "ZOMGGGG!" tweeted Noosphere founder Pascal-Emmanuel Gobry earlier this morning. What could have gotten @PEG so excited?

Our invitation must have gotten lost in the mail.
Bitbusted This week, we all had front-row seats to a bubble inflating and deflated at Internet speed. On Tuesday, things looked so sunny that Business Insider's Steve Kovach tweeted, "Henry just told me Bitcoin is going to $5,000 because 'why not?!?!'" That would be Henry Blodget, whose boosterism has gotten him into trouble before. Well, on Wednesday prices peaked at $266, then promptly crashed. The currency is now somewhere in the neighborhood of $93.00.
Souvenirs Anyone remember his high school Korean? Google Ideas director Jared Cohen, who rode along on Eric Schmidt's trip to North Korea but was overshadowed by Bill Richardson's cravat, needs a little translation. Seems he picked up a piece of art while north of the 38th Parallel, but he can't remember what the damn thing says. Hence, a tweet requesting the crowd drop a little wisdom on him: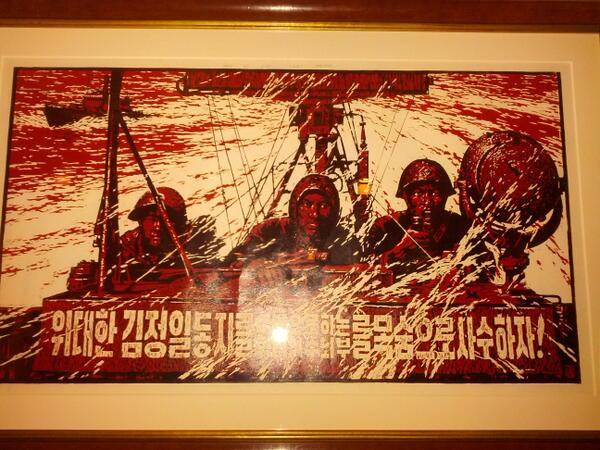 Girl gets job Today is the last day of our esteemed editor, Nitasha Tiku, who is heading over to Gawker as a Senior Writer. Please wish her well and enjoy this Vine of our final meal together.