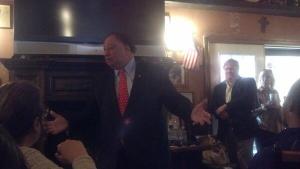 Earlier today, John Catsimatidis gave his mayoral campaign pitch to the Brooklyn Young Republican Club, and it was certainly not a humdrum affair. His initial speech, given as he stood in the backroom of a Cobble Hill Irish pub, went smoothly enough. When Mr. Catsimatidis veered into the question-and-answer period, however, the GOP candidate quarreled extensively with a multiple audience members.
"I still don't understand what your plan is," conservative activist Frank Russo told Mr. Catsimatidis, for example, about his job training program. "Quite frankly, I'm being honest. I'm not trying to be confrontational."
"That's public money, that's my money," another audience member chimed in about the proposal, which would train some young people trade skills early on in their careers. "You think it's okay to steal it!"
"No! No! No!" Mr. Catsimatidis boomed back, pausing for effect. "Bullshit! Go bullshit yourself if you want! … The program is to teach these people the ability to earn a living, okay? … I know how to make a living! I know how to teach people to make a living. You know, if you don't like it, tough!"
The verbal exchange continued. Mr. Russo, the head of the Brooklyn Tea Party club, said he was baffled at the tension.
"I'm a registered voter. I'm a Republican registered voter," he said. "I don't know whom I'm supporting. I don't know who I will vote for. Why would I vote for you if that's how you talk to people?"
"If that's the way you talk to me!" Mr. Catsimatidis exclaimed as the two attempted to shout over one another. "I am not scared. Let me tell you, I'm not scared of the 12 people that will be demonstrating at the bottom of the street saying, 'Oh, bap-bap-bap-bap.'"
This was not Mr. Catsimatidis' only heated back-and-forth during the meeting. Another questioner, Bay Ridge Republican gadfly Jim McCall, pressed the candidate on whether he'd get involved in elections for party leadership posts. The borough's one GOP elected official, State Senator Marty Golden, is currently trying to oust party chair Craig Eaton and Mr. McCall wanted Mr. Catsimatidis to stay out of the squabble.
"State committee and county committee, what does that mean?" Mr. Catsimatidis replied, confused. "Here's what I'm going to do. I will always support my friends–full stop! I will always support my friends–full stop! I still support my friends from grammar school, I still support my friends from Brooklyn Tech. And I'm not going to stop doing that … Tough luck if you're not my friend! Tough luck if you're not my friend!"
"Maybe you'll get tough luck!" Mr. McCall snapped, attempting to be heard over Mr. Catsimatidis and the escalating noise in the room. "And a lot that rhymes with 'luck.'"
"Well, 'shit' doesn't rhyme with luck," Mr. Catsimatidis noted back. "If everybody wants to fight me, I'll be there! Next!"
Update (7:50 p.m.): Jessica Proud, spokeswoman for rival Republican candidate Joe Lhota, sent in a response to today's event.
"Anyone running for mayor should be able to offer substantive ideas and solutions to our city's problems without engaging in irrational and antagonistic exchanges with voters," she wrote in an email.
Below you can watch some of the sparring between Mr. Catsimatidis and Mr. Russo, courtesy of Jacob Kornbluh of the political blog NYC Elects — 2013:
[youtube http://www.youtube.com/watch?v=raoez_xnkXU]