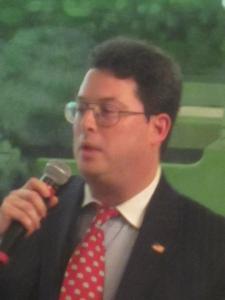 Vince Tabone, who works both as a staffer on GOP mayoral candidate John Catsimatidis' campaign and as an attorney in the billionaire businessman's company, was reportedly among the politicos arrested earlier this morning, a group that also includes State Sen. Malcolm Smith and Councilman Dan Halloran. They face wire fraud and bribery charges in an alleged scheme to help rig the mayoral race in Mr. Smith's favor.
Politicker reached out to Mr. Catsimatidis for his reaction to these developments.
"It's very, very sad," he said in a phone call from his doctor's office. "I know the family. It's sad that people create their own problems."
Mr. Halloran and Mr. Smith, a Democrat, allegedly formed an alliance to help Mr. Smith gain the Republican ballot line in the mayoral primary, according to the U.S. Attorney's office. Since Mr. Smith is a Democrat, he would have needed the backing of three Republican county leaders to appear as a Republican in the primary. The Queens Republican Party, of which Mr. Tabone is the executive vice president, ultimately backed Mr. Catsimatidis, but according to the U.S. Attorney's office, Mr. Tabone allegedly agreed to take bribes to help Mr. Smith get on the ballot.
A press conference will be held at 11 a.m. today to formally unseal the charges.