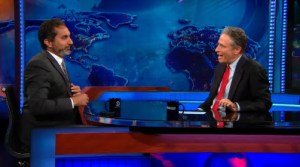 His TV show's set, his smile and even his hair look just like Jon Stewart's. But Egyptian television host Bassem Youssef's rights couldn't be more different.
On The Daily Show on Monday night, Mr. Stewart came to the defense of his Middle Eastern alter-ego, host of the Egyptian satirical TV news show Al Bernameg ("The Program").
Mr. Youssef, who is often referred to as "Egyptian Jon Stewart," was arrested on Saturday night after being accused of insulting Egyptian president Mohamed Morsi and Islam on his show. Mr. Youssef turned himself in on Sunday morning and was held for questioning for five hours before being released on bail, according to The New York Times.
"Who's that guy? I bet he's a terror. What, has he been sabotaging Egypt's infrastructure? Or harassing Egyptian women on the streets, or un-employing Egyptian people?" Mr. Stewart said on his show, referring to Mr. Morsi's leadership of post-Arab Spring Egypt, which he sarcastically called "a work in progress."
Mr. Stewart presented a clip from the contested episode of Mr. Youssef's show in which the host wore a comically-large version of a hat Mr. Morsi wore at a ceremony in Pakistan. Mr. Youssef also made fun of Mr. Morsi's "less-than-fluent English."
"Making fun of the president's hats and less-than-fluent English? That was my entire career for eight years," Mr. Stewart asserted, pulling up a picture of George W. Bush in a cowboy hat up on the screen beside him.
After further lambasting Muslim Brotherhood leader and taking the president of NBC down with him, Mr. Stewart softened his mocking tone a bit and moved his chair away from his usual spot.
"Come on. Charging Bassem Youssef with insulting Egypt and Islam? I know Bassem. Bassem is my friend, my brother," Mr. Stewart said of the heart surgeon-turned comedian, who appeared on The Daily Show in June last year. "By the way, without Bassem and all those journalists and bloggers and brave protestors who took to Tahrir Square to voice dissent, you, President Morsi, would not be in a position to repress them," he said on a more sobering note.
"The world is watching. No one wants to see Egypt plunge into darkness," Mr. Stewart added. "Democracy isn't a democracy if it only lasts up until someone makes fun of your hat."