Ethan Cyr has a dream. That dream is to build a 13-foot T-Rex with Christopher Walken's head on it. And thanks to the Internet, his dream is going to come true.
Yesterday, Humans of New York received an email from the most awesome child in the world and posted it on Facebook (META).
It read: "I am a sixteen year old from the lower east side of Manhattan. I am building a 13 foot T Rex with Christopher Walkens head and I was wondering if you would be willing to help me gain publicity for my project. I totally understand if this is just too weird and you don't wanna help."
Ok, it is totally weird, but HONY did want to help. They linked to Cyr's indiegogo page, where he asked for $750 to build the "Walken Rex," which, by the looks of his material list, he plans to construct out of PVC piping, chicken wire and paper mache. In just over 24 hours Cyr has raised $2,285 from over 200 contributors.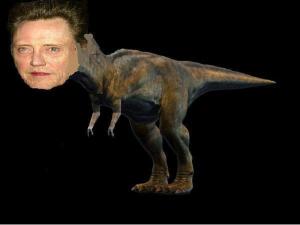 "I was inspired to design and build this piece after watching the movie Queen of Versailles. I saw how rich those kids were, and their lack of creation with all that money. I decided if I could get that much money I would make something great. The Walken Rex was originally thought of by a friend of mine, we are not completely sure where he got the idea from, but it seemed like the perfect thing to build," Cyr wrote on his indiegogo page.
The teen promised incentives to anyone who donates to his cause—those who give at least $5 will receive a Christopher Walken Rex cartoon. A donation of $75 gets you a cartoon of you with Walken, and for just $1,000 you get to choose the face of Cyr's next statue. Oh, the possibilities! How about a Meryl Streep Triceratops? Or a Jack Nicholson Velociraptor?
We needed to find out more, so we did a quick Facebook search for this creative genius. We think we found Cyr, and we pray to God he's real. In addition to his cover photo, which is a pretty badly photoshopped mock-up of the Walken Rex, Cyr has a few other weird drawings of Grim Reaper-like figures wearing colorful sweatshirts.
We're just looking forward to seeing if Cyr actually brings this thing to life—on Facebook HONY promised to document the project if it gets funded.
So please, as Cyr wrote on indiegogo, "Tell people, tell anyone, tell everyone, tell Christopher Walken."