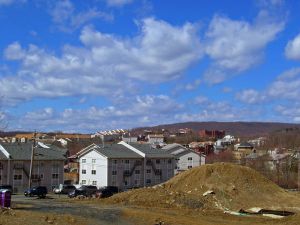 New York is now home to a gender-segregated playground thanks to the Satmar community of Kiryas Joel.
Today, the ultra-Orthodox town opened its very own childhood oasis, complete with four widely-spaced and completely necessary sections: one for fathers with their sons, a second for mothers with their daughters, a third for just boys and a fourth for just girls.
The playground facilities for males are blue, for females red and white.
A Yiddish sign welcoming visitors to the Orange County play area asks that visitors "maintain gender separation in all public areas" and each of the aforementioned sections has big blue signs indicating where to play, according to images posted of the soon-to-be-controversial park.
In addition, the Committee of Modesty of Kiryas Joel, which has previously been scrutinized for operating like a Hasidic KGB, will be supervising the park to ensure that no inappropriate activities take place between the rugrats.
"It was time, that the city which was founded according to the regulations and directives of Rabbi Joel Teitelbaum, have a park which is fully sex segregated, according the strict laws of true Torah Jews," a Satmar community activist said, according to reports.
But how, you might be asking, did they open a park with such specific rules? According to BHOLWorld.com, the park received "special financing" from the mayor, Rabbi Abraham Wieder, after the town turned down a $195,000 grant.
"The village has the right to be able to build, and we don't have oversight over it," Councilman Harley Doles explained to the RecordOnline. "My understanding is it's only for the residents of Kiryas Joel, because no state or federal funds are being used."
Some reports say that non Jews or non ultra-Orthodox Jews would be banned from the park, but it's all a little unclear; there's only one thing for sure: the camera crews are already on their way.