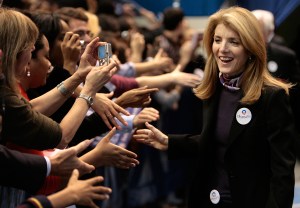 I kinda like Caroline Kennedy. Not that she would care if I do or don't. In any case, I haven't seen her for a dozen years—and before that only fleetingly. We first met when she was an undergraduate at Harvard in the late '70s. She was the belle (or maybe not …) of my brilliant student and future colleague Eric Breindel, whose accomplished life working as Senator Moynihan's top intellectual aide and as chief New York Post editorialist was plagued by tempests and torments that ended tragically in 1998. (He'd had other belles before and after: Benazir "Pinky" Bhutto, for one, and then a gifted writer wife and a devoted girlfriend, and finally his longtime love, Lally Weymouth.)
One fact I remember about Caroline is that, when shopping around for an area of academic concentration, she contemplated applying to the select program in social studies that I had run for years. Since she knew that Eric and I were close, however, she imagined that some favoritism might play into the process, and she went off to study in another field. She brought her mother around to my house at a graduation party. Jackie was not at all patronizing, even though by then she had been married to the most powerful man on earth and then to one of the wealthiest.
Apparently, President Obama now intends to appoint Mrs. Kennedy Schlossberg as the American emissary to Japan. John F. Kerry, the recently confirmed and appropriately grave secretary of state, might have other thoughts on the matter. But I suspect his leeway is not great—after all, most of the important ambassadorial posts have been given or are in the process of going to (mostly) men from Barack and Michelle's political life. The Russian Federation and Brazil are exceptions; they have been sent academic or diplomatic professionals. On the other hand, hacks have been dispatched to key countries, even to China and South Africa. The editor of Vogue will not be sent to London. But whoever will be needs to have deep pockets like the one who left last week. Five previous ambassadors to the U.K. were elected president of the United States. Paris still has its American plenipotentiary, whose credentials include being the son of a former ambassador and the CEO of the company that brought the Muppets to the world. I am sure they are all fine and estimable men.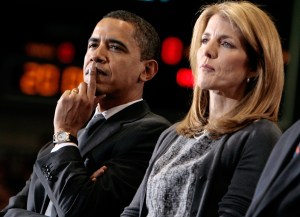 Why do many people object to Caroline's ambitions to become our ambassador in Tokyo and take issue with Mr. Obama's apparent determination to designate her for the posting? Well, one fact is clear: she is no Edwin O. Reischauer, who served as the U.S. emissary to Japan from 1961 to 1966. Mr. Reischauer was a great scholar of Japan and Japanese civilization, perhaps the greatest American in the field … ever. Oh, and he was appointed by Jack Kennedy, Caroline's dad. But let's face it. This administration is not comfortable in the realm of the cerebral, which includes sheer factual knowledge, lots of it, and also presumes deep thought. You will not get that from Valerie Jarrett or David Plouffe. Frankly, the present White House makes me nostalgic for Jimmy Carter's executive mansion. You had two brainy people with antagonistic views, Zbigniew Brzezinski and Cyrus Vance, arguing it all out before an intellectually picky president. The present president already knows everything he needs to know.
But back to Secretary Kerry. He's just back from one of his many urgent Middle Eastern tours. I suggest that his North Korean agenda item is more significant than whether he can lure the Palestinians to the negotiating table. In fact, the outcome of the U.S. attempt to persuade Pyongyang to reverse its nuclear program will be seen in Israel as an index of what America's course will be vis-à-vis Iran's atomic aspirations. The Palestinians can't destroy the Jewish state. The Palestinians can actually only destroy themselves, like the Syrians are and the Egyptians will soon do. But Tehran might plausibly try nukes out on Israel. So what has this to do with Caroline Kennedy? Japan will be needed in the confrontation with Kim Jung-un. Diplomacy with Asian nations is stylized theater. Will it then be Kabuki? If so, women are forbidden to play. The North Koreans are the real test of Mr. Obama's foreign policy. If Mr. Obama doesn't beat them down, then his threats to Iran are implausible. Downright unbelievable.
Another factor behind the Kennedy surprise is that she has tried this once before. She let it be known before agreements had been reached that she wanted to succeed Hillary Clinton as U.S. senator from New York. A good deal of political fumbling ensued, and the fumbling then-governor, David Paterson, couldn't or wouldn't bring it about. Enter Kirsten Gillibrand. She was appointed by the governor and then won on her own. She is a nice conventional Democratic hack. Caroline would have made a senator you'd have to listen to, even if it was only because she was a Kennedy. But she is not like some of her cousins. She is serious. Nothing sordid has ever been attributed to her. (Nor to her lamented brother, who couldn't resist a typical ambition of the very rich to fly, but was otherwise a hardworking journalist who wanted very much to be the editor of a serious magazine.)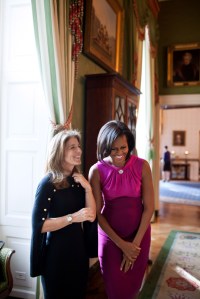 It seems to me, though, that Caroline's wish to be the president's designee in Tokyo is the last act for the Kennedys. They've been upstaged among the Democrats by the Clintons, maybe even by Chelsea Clinton, if you can believe it. On the Republican side, we've already had George I and George II in the White House. And there's another son/brother waiting in the wings. Hey, we started out with the Adams family and we survived even the grim Education of their prodigal Henry. A later prodigal, Thomas Boylston Adams, ran for U.S. Senate in Massachusetts in 1966, following a similarly disastrous run in the Bay State four years earlier by the grandson of Chief Justice Charles Evans Hughes. "Peace candidates" they were called, and I was involved with both. Alas.
No such hoity-toity aims animate the pols in the Kennedy family. Ted's son left Rhode Island's seat in the House with a sickness that resembles that of Jesse Jackson's heir. The new Kennedy in Congress, Joseph P. Kennedy III, is the son of another congressman (Joe Kennedy II) who now runs Hugo Chavez's "charity" oil company for some of America's poor families, at a salary of around $600,000. Once, long ago, we just about came to blows in the lobby of a Washington hotel. His bodyguards or whatever separated us. But this was not the worst of Joe's troubles. He left politics. That's the good news. The better news is that his son and namesake is a serious person with serious attainments in his young life. Robert Kennedy's family has been the most seriously afflicted by wealth, fame, power, drugs, killer sports, a bizarre mother and an assassinated father who was no instance of virtue in his personal relations. (And lest one forget, he was murdered by a Palestinian terrorist.) Young Bobby, the attorney general's son and a very bright student of mine, was a roommate of Eric Breindel's.
There is a Rose Fitzgerald Kennedy Greenway in Boston, an urban island of soft gardens and soon a carousel. Maybe some people know who this Kennedy was. In a few years, only the Kennedy cultists will know, and they will not remind you of the suffering that she, the former president's mother, experienced as paterfamilias Joseph Kennedy's betrothed. There is also in Central Park a Jacqueline Kennedy Onassis Reservoir to "commemorate her contributions to New York." It is true that she jogged in the park and that her Fifth Avenue apartment overlooked the place that has been named for her.
Of course, all over the country there are memorials to her husband. But JFK's presidency has also been undergoing reappraisals. In my view, there were two great moments to his term in office. One was his rhetorical link in Berlin to the victims of Stalinism: "ich bin ein Berliner." The other was his staring down Krushchev when the Soviet leader and his comrade Castro had brought the world to the edge of war in the Cuban missile crisis. Brother Robert has also been memorialized around the country. For what achievements, I do not know. Four years ago, the New York State Department of Transportation announced that it was about to spend $4 million to change the name of the Triborough Bridge to the Robert F. Kennedy Bridge. Last month, I asked my taxi driver to take the Kennedy Bridge on my ride from Manhattan to LaGuardia. He said: "What?" And then he suggested instead that, given the time and the traffic, it would be faster and cheaper to take the Edward Koch bridge on 59th Street. Which we did. And yes, he knew who Mr. Koch was.
Marty Peretz is the former editor in chief of The New Republic.