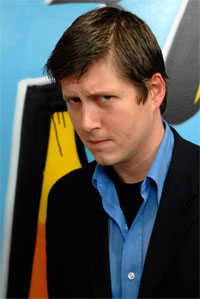 Last Friday, Deadspin founder and New York magazine sports editor Will Leitch announced on his Tumblr that it was his last day at the magazine as a full-time employee. By the end of the summer, Mr. Leitch will leave New York City as well.
After 13 years of climbing the New York sportswriting ranks, Mr. Leitch is moving to Athens, Ga., where he will work full-time at Sports on Earth, a joint venture between USA Today and Major League Baseball's media arm. The website launched last summer.
It is not a coincidence that Mr. Leitch's decision to leave coincides with nursery school applications.
"I have a kid, and that changes everything," Mr. Leitch told OTR. Mr. Leitch and his wife, Alexa Stevenson (who is the home editor for Observer Media's own Scooter as well as an interior designer) have an almost-2-year-old son. "I want my kid to have a yard and a dog, and I want his application for preschool to be, 'Here's his social security number.'" Even though Mr. Leitch and Ms. Stevenson have navigated the competitive world of New York, they didn't want to force a toddler to do the same.
"To get to New York magazine, you have to bring it all the time—and I love that about New York, but I don't want my kid to have to be exposed to that," Mr. Leitch said. "We find that the situation with schools and the pressure on kids is frankly just wrong."
Fortunately for Mr. Leitch, Adam Moss offered to keep him on as a contributing editor, which he called a "catchall" title that includes both occasional writers like Jay McInerney and full-time ones. Mr. Leitch will write an occasional column or feature, filing them from south of the Mason-Dixon line instead of from south of Manhatttan.
Mr. Leitch has never actually been to Athens, but he had never been to New York when he moved here at 24 with four suitcases and vague dreams of writing. "If I handled that—and I didn't always handle it well—I should be able to handle this," he said. "At least I have a job now."