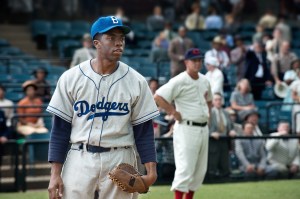 Movies about baseball heroes usually suffer from one of two problems: too much about the sport and not enough about the hero, or too much heroism and not enough baseball. 42, the latest in a long line of movies about Jackie Robinson—a hero who defines the word heroic—finds a nice balance between the man and the game he played. It's a perfectly unexceptional but slickly made, sincerely acted, often entertaining, sometimes manipulative and always watchable blend of action on the diamond and bravery behind the scenes that will please baseball fanatics more than movie historians. It's a good enough biopic to make you wish it were a better motion picture.
If writer-director Brian Helgeland had never done anything more than win a Best Screenplay Oscar for writing the great L.A. Confidential, he would be a permanent fixture in my own personal Hall of Fame. With 42, he expands his skills to turn a mountain of research into a cogent life story worth retelling. It's not only about a little black boy from a family of Georgia sharecroppers who grew up to be the first African-American player in Major League Baseball, played with dignity and elegance by Chadwick Boseman, but also about Branch Rickey (Harrison Ford as you've never seen him before), the scrappy, revolutionary general manager of the Brooklyn Dodgers who followed his heart and signed up the unknown first baseman in 1947, ending baseball's infamous "color line" for the first time in 60 years and taking a stand against prejudice that changed the history of the Greatest American Pastime forever. Easy? It was a road paved with the razor blades of hate that only a pair of color-blind mules could have survived without permanent injury. It's a heck of a story, but not the only one. They called Hank Greenberg a "kike" and Joe DiMaggio a "wop." But somehow the N-word has an uglier ring that still resonates.
42 is less about the career that catapulted Jackie Robinson to fame and more about the hurdles that knocked him down along the way. Visit the Baseball Hall of Fame if you want to learn about the awards, the magazine covers, the stolen bases, the 137 home runs and how he helped the Dodgers beat the Yankees in the 1955 World Series, one year before he retired from the sport forever. It makes a better movie to catalog the insults and jeers from the spectators, the press and his own teammates at a time when there were 16 Major League teams and every player was white. Rickey broke the rules, but he demanded a black player who had the guts never to fight back, lose his cool or act like anything less than a gentleman. Jackie's motto was "God built me to last," but to the other players, he was a punching bag ready to snap. Leading the league and three wins away from the pennant, he was still getting beaned in the head by racist pitchers. The Dodgers were in a dogfight for first place before he would even take a shower with the rest of the team. He was the butt of an avalanche of clichés, and Mr. Helgeland seems to have collected them all. Why did you do it, he asks Rickey, who says floridly, "We won over fascism in Germany. It's time we won over racism at home." Reports differ as to just how liberal Branch Rickey really was; he may have just wanted the best team he could assemble. And there's not a word about how Robinson, whose career only lasted 10 years, later turned into a radical Republican and a big supporter of Richard Nixon. On film, they're both saints.
The salient facts in 42 are warmed over from The Jackie Robinson Story, the 1950 film in which he played himself—with surprising naturalism and force. You get the nasty Dodgers petition scene, in which they actually tried to force management to throw him off the team, and I dare you to fight back a tear or two when the other players finally come around to embrace and respect their black teammate as a human being. The sentiments are inflated and the heroics glorified. You boo the same hecklers, especially Alan Tudyk in a great performance as notoriously bigoted redneck Philadelphia Phillies manager Ben Chapman, who taunted Jewish players with Nazi salutes and verbally abused Robinson on the field with loud racial epithets. And you cheer the same trailblazing notables—Pee Wee Reese (Lucas Black), Ralph Branca (Hamish Linklater), rough guy Leo Durocher (Christopher Meloni). I liked them all. Among the film's virtues, I also liked lovely Nicole Beharie as Jackie's wife Rachel, the camerawork by ace cinematographer Don (Forrest Gump) Burgess, and the wonderful period source music by Billie Holiday, Artie Shaw and Count Basie.
The theme, expressed in a gruff, solid performance by Harrison Ford, is that a man who can play ball should not be kept out of the profession because of his color or race. Can't quarrel with that. As every baseball fan knows, 42 was the number on Jackie Robinson's uniform from the day he joined the Dodgers on April 15, 1947. It was officially retired in 1997 in memoriam, never to be used again—except every April 15, when every player on every team in baseball wears the number 42 in his honor. I'd say he beat the odds and made baseball history big time, wouldn't you?
rreed@observer.com
42
Written by Brian Helgeland
Directed by Brian Helgeland
Starring Chadwick Boseman, T.R. Knight and Harrison Ford
Running time: 128 minutes
3/4 Stars