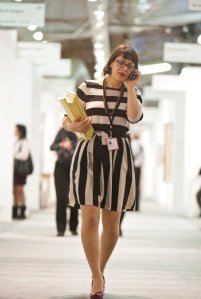 Manuela Paz, the former director of VIP relations for the Armory Show, has just been hired by the New Art Dealers Alliance, where she will serve as the group's membership director.
Ms. Paz worked at the Armory for eight years. "We are thrilled to have Manuela join the NADA team at such an exciting point in our trajectory," NADA Director Heather Hubbs said in a statement, "there is immense potential within our organization and Manuela is just the person to help take NADA to the next level."
NADA now hosts three fairs a year, itself, in Cologne, New York and Miami Beach. At the moment it's unclear if the group will, this year, stage a gathering in Hudson, N.Y., as it has for the past two years.
This news was first reported by Katya Kazakina of Bloomberg, on Twitter.