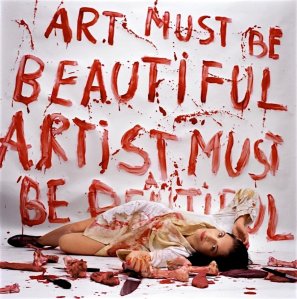 Tilda Swinton may have stolen Marina Abramović voyeuristic thunder at MoMA with her sleeping-in-a-glass-box shows, but when it comes to displaying oneself in glass boxes, Ms. Abramović will not be outdone: the Serbian grand matriarch of performance art just picked up a $2.65 million two-bedroom pad at Philip Johnson's Urban Glass House.
The eighth-floor apartment at 330 Spring Street, in Hudson Square, was asking $2.6 million, but listing broker Suzun Bennet at Town Residential managed to get a bit over the asking price. "It was on the market for quite a while as an investor apartment," Ms. Bennet told The Observer, but as soon as the rental tenant who was living there moved out, it sold. Unfortunately for seller Eliot Ferguson, though, it didn't quite fetch the nearly $2.7 million that he paid for the unit at the end of 2006, at the height of the real estate bubble.
The 1,722-square foot condo's interiors were done by Annabelle Selldorf, an inoffensive choice for a woman who once declared, "Art should be disturbing."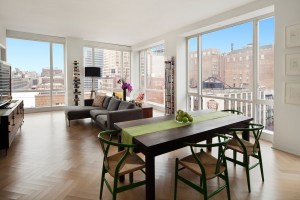 Ms. Abramović's new pad is a bit cheaper than her last, which was a fourth-floor loft at 70 Grand Street in SoHo that she sold last year for $3.2 million. And she may use her new place as a pied-à-terre, since Ms. Abramović's latest venture will take her to the town of Hudson, in upstate New York, where Rem Koolhaas-led OMA will be designing her new Marina Abramović Institute building.
Despite Ms. Abramović's aggressively public exposure and the apartment's floor-to-ceiling windows with northern and eastern exposures, the surrounding buildings are all low-rise commercial and industrial structures, so Ms. Abramović should have a bit of privacy. At least, until her neighbors start taking advantage of the Hudson Square rezoning.