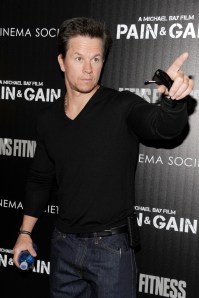 Last night, at The Cinema Society & Men's Fitness after party for the premiere of Pain and Gain, Broadway stars Charl Brown and Ariana DeBose were still coming off their high from the night before, when they debuted Motown: The Musical in front of an audience full of the performers being played onstage.
"It was creepy, but also awesome," said Charl Brown of meeting his real-life counterpart as revelers sipped Qui cocktails.

Ariana DeBose, who understudies for Diana Ross (played by the Tony-nominated Valisia LeKae) and performs as Marie Wilson, said of meeting the two women: "It was incredible…during curtain call, all the people who the show is about actually came on stage. Diana Ross was actually there."
So too, were Mr. Robinson, Berry Gordy, Mary Wilson and Stevie Wonder.
We didn't want to be rude, but ah, how did Mr. Wonder get from the packed house onto the set?
"Oh, didn't people hoist him up to the stage?" Ms. DeBose asked her costar.
"I think so…he was great, had a beautiful date," Mr. Brown replied.
Meanwhile, rumors were circulating that Mr. Wahlberg's appearance at the film was almost canceled due to the bombing in Boston. Instead, the actor showed up to the premiere and gave a heartfelt speech, the gist of which was: "I was thinking about not coming, but I thought 'I have to keep going.'"
The actor–whom it was also rumored had found out earlier in the day that a friend's young son had been one of the three casualties in yesterday's horrific tragedy at the Boston Marathon– then asked for the audience to say a silent prayer for the people of Boston.