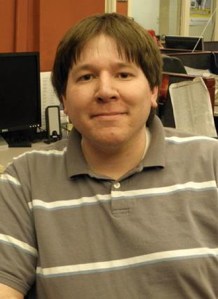 When Matthew Keys tweeted on Monday morning that he had been fired from his position as deputy social media editor at Reuters, speculation spread quickly on the Internet.
Mr. Keys, who last month was indicted for conspiring with the hacker group Anonymous to gain illegal access to the website of The Los Angeles Times, had already been suspended, with pay, from his job, and many assumed that the firing was related to the criminal charges brought against him.
But in a blog post on his personal website, Mr. Keys listed various other reasons for his termination—based on a telephone conversation he said he had had with Reuters—that were unrelated to the indictment, such as tweeting inaccurate information from a police scanner after the Boston Marathon bombing and identifying himself as a "Reuters journalist" while suspended.
"Still," Mr. Keys wrote, "one has to wonder if they are connected." If he has learned anything from this debacle, however, it may be that he should wait to draw any conclusions. Meanwhile, the 26-year-old "wunderkind of new media," as he was once dubbed in The New York Times, has filed a grievance with his union.
"Our contract with Thomson Reuters prohibits management from dismissing anyone without just and sufficient cause," said Peter Szekely, secretary-treasurer of the Newspaper Guild of New York, in a statement. "We don't believe the company has the required justification here. At this point, we intend to vigorously defend Matthew Keys as we would any other hardworking member of the Newspaper Guild of New York who had been fired without cause."
Mr. Keys's firing comes at a time when some traditional and social media sites have taken heat for reporting inaccuracies in the wake of the Boston Marathon bombing. These include Reddit, whose users launched a kind of vigilante detective tear to find the bombers, which "fueled online witch hunts and dangerous speculation," as Reddit's general manager Erik Martin, who apologized for the manhunt, wrote on Monday. In light of this, firing someone for errant tweeting seems like a harsh punishment, especially since, as Mr. Keys has pointed out, Reuters itself has reported information from police scanners in the past.
Still, it would seem that Mr. Keys, who now has more than 35,000 followers on Twitter, has a responsibility not to report unconfirmed information, as he did after the bombing. "Just in: Suspect 2 on the ground at gunpoint," Mr. Keys tweeted on Friday; it was retweeted nearly 250 times and turned out to be incorrect, which Mr. Keys himself pointed out in a later tweet.
Such recklessness prompted Choire Sicha to publish a post on The Awl last week titled "Is Your Social Media Editor Destroying Your News Organization Today?" In the post, Mr. Sicha singled out Mr. Keys—and his Twitter account—writing, "The sheer amount of useless, misleading and random noise put out by this account is unreal."
Reuters spokesperson David Girardin confirmed to Off the Record that Mr. Keys is no longer with the company, though he would not comment on why the social media editor was let go.
Mr. Keys—who could face 25 years in prison for allegedly providing Anonymous with information to log in to the server of the Tribune Company, among other charges—has more than just the Newspaper Guild on his side. Many concerned users took to Twitter on Monday to show their support. One Twitter user, ChristineKaratnytsky, wrote, "As a librarian, I valued your commitment to truth/accuracy. I think Reuters errs in judgment. You deserve public support."
The ever-opinionated Jose Canseco even entered the fray. In a tweet directed to BuzzFeed politics reporter Andrew Kaczynski, Mr. Canseco wrote: "Andy hire Matt @thematthewkeys reuters totally hosed him for doing his job. when did reuters become pravda."
Mr. Keys tweeted back: "May I use you as a reference?"