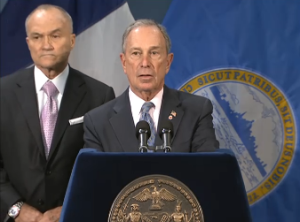 This afternoon, Mayor Michael Bloomberg and Police Commissioner Ray Kelly gave a press briefing to update the public on the city's security efforts in the wake of yesterday's deadly explosions at the Boston Marathon. And, while stating there are no specific threats connected to the Boston incident, Mr. Bloomberg ominously warned about "special interests" shaping the city's security policies in a way "that the terrorists are waiting for."
"The N.Y.P.D … has helped deter and thwart numerous terrorist attacks on our city in the past," Mr. Bloomberg explained. "But we must remain vigilant for the future. And we are vigilant. The fact is there remain people who want to attack us. The moment we let our guard down, the moment we get complacent, the moment we allow special interests to shape our security strategies is the moment that the terrorists are waiting for."
Although Mr. Bloomberg didn't explain what those special interests were, he did acknowledge Manhattan's public security camera network as the sort of program that needs additional investment. Left unmentioned were the N.Y.P.D.'s controversial stop-and-frisk tactic and Muslim surveillance efforts, both of which Mr. Bloomberg has staunchly defended in the past.
"The Boston bombing is a terrible reminder of why we've made these investments, including camera technology, that could help us deter an attack," the mayor said. "Of course, no system is perfect and no system can eliminate the threat of an attack. That's why it's so important that we continually improve the system, especially as technology improves and allows us to expand our capabilities."
Additionally, Mr. Bloomberg said the city's stepped-up police presence–very noticeable to commuters at public transit hubs–will continue until the still-unclear facts from Boston emerge.
"Since yesterday afternoon, we have fully mobilized our resources to protect New Yorkers from any related threats that might emerge," he said. "The N.Y.P.D. quickly stepped up security at strategic locations and critical infrastructure, including our subways, … as soon as we heard about the attacks. And we'll leave those measures in place until we learn more about what actually happened in Boston."