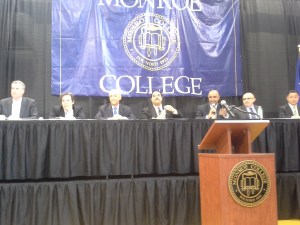 Cops resemble "slave catchers." Sal Albanese never smoked a joint. The Bloomberg Administration has locked the men of God out of City Hall.
These were all arguments presented at yesterday's peculiar mayoral forum, moderated by clergymen in the Bronx.
"How do you make the city safe with the thugs who are running around from the police department undercover who are from the outer boroughs and Long Island?" Randy Credico, a comedian and long-shot mayoral candidate, boomed. "They have thousands of undercover cops that are whacked out on steroids, going around like slave catchers, this is true, like slave catchers did back in the 1860's and 1850's in the wake of the fugitive slave law."
The Monroe College event drew a mix of leading Democrats and motley second-stringers, allowing discussions to veer from boilerplate campaign rhetoric to pot-smoking habits, exactly how much church should be separated from state and a slavery analogy that immediately shocked the auditorium. The bizarre star of the forum may have been Mr. Credico, a self-described "political comedian" who, along with Rev. Erick Salgado, ex-Democrat Adolfo Carrión and Mr. Albanese joined front-running candidates like Bill Thompson, Comptroller John Liu and Public Advocate Bill de Blasio on the stage. Not in attendance was the leader in all polls thus far, Council Speaker Christine Quinn.
Ms. Quinn, speculated a member of Monroe College's staff, may not have wanted to attend because of the forum's nature: the City Action Coalition, a coalition of conservative religious groups, was hosting the event and posing atypical questions. In addition to the usual inquiries about the police department's controversial stop-and-frisk and the city's struggling educational system, candidates were also asked about their stance on sex education in public schools, Mayor Michael Bloomberg's attempt to prohibit religious groups from holding services in public schools and whether "religious pregnancy crisis centers" should be able to operate without signage stating that they do not perform abortions.
The leading Democrats did not pass up the opportunity to bash Mr. Bloomberg, but they appeared caught off guard by the other questions from the panel of clergyman. Several, including Mr. Liu, did not voice an opinion on the role of sex education in public schools. And they quickly–before jumping to pile on Mr. Bloomberg–said they believed in "full disclosure" for health clinics.
"Too often government has held the faith community at arm's length to the detriment of all," Mr. de Blasio said. "I would like to see real faith representation at City Hall, a regular meeting between the mayor and top aides and faith leaders–you need proof? Just look at what happened after Hurricane Sandy where the faith community got there so often well before the government got there."
Faced with a more socially conservative audience than they were accustomed to, the Democrats sought to downplay the role of government and extol the potency of religious organizations. For example, Mr. Thompson blasted the city's attempt last year to keep religious services out of public schools.
"I believe we should continue to allow houses of worship to rent space from the City of New York. It is not a question of separation of powers," Mr. Thompson said, proposing a "mayor's office of faith-based development" in his theoretical administration. "Why would we change that now based on the whims of one individual?"
The debate swerved again when Mr. Albanese, when explaining why he would legalize marijuana and tax it, paused to emphasize that he's "never smoked pot." Mr. Credico wasn't so discreet.
"I would cut back on the money for the prosecution of pot. I'm an ex-pot smoker and I'm a part-time pot smoker, but the mayor can't raise taxes on it; it is the governor that has to do that," Mr. Credico said. "Maybe you have been smoking pot, Sal."