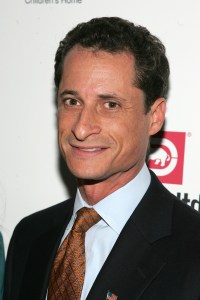 If Anthony Weiner campaigns for mayor this year, he'd likely shake up the race's dynamics due to his name recognition, campaign war chest and the widespread media interest in his post-scandal political rehabilitation. But the candidates already in the field said they aren't sweating their potential rival's newfound electoral interests, revealed today in a New York Times Magazine profile. Comptroller John Liu already commented on Mr. Weiner by tweaking his infamous Twitter error this morning, and several other contenders for the city's top job weighed in further this afternoon.
For instance, Public Advocate Bill de Blasio–who is targeting same sorts of progressive activist and outer borough voters that Mr. Weiner could be aiming for–said his strategy wouldn't be altered by a Weiner candidacy.
"My strategy is set, I'm comfortable with it," he explained after a candidate forum in the Bronx. "I believe in a vision for change for this city. Obviously I've been a champion for the outer boroughs. I'm a Brooklynite; I believe the city government during the Bloomberg years became less and less fair to the outer boroughs … I think I've made clear what it looks like to have a five-borough government that respects every borough."
Mr. de Blasio also said he "anyone who wants to run is welcome in this race," adding, "I'm talking about a progressive vision of change that people want. If other candidates want to join this race they're welcome, but I think what will ultimately decide this race is who has the clearer progressive vision. And I think I put forth that vision."
Former Comptroller Bill Thompson echoed Mr. de Blasio's welcome mat for Mr. Weiner, but additionally urged the former congressman to attend the various mayoral candidate forums so that voters can hear directly from him.
"I don't know if the congressman is going to run for mayor, but if he does, I welcome him to the race," he said. "If Weiner is going to run, come and join us at the candidate forums. Come into this race then for mayor and let us have the discussion in front of the people of the City of New York about what New York City should be and the direction this city should go in."
For his part, former Councilman Sal Albanese wasn't quite as gentle as his opponents in addressing the subject and directly described what he felt would be Mr. Weiner's long electoral odds.
"It's gonna be a high hurdle for him to prevail in the mayors race given some of the things he's done. I don't see it," he said. "I can't say some of the adjectives that have been used to describe him. I haven't heard anything positive."
At the forum, Politicker also attempted to ask Rev. Erick Salgado about Mr. Weiner, but the socially conservative candidate would only smile and say "no comment."
Update (3:42 p.m.): Council Speaker Christine Quinn, the only major Democrat who had yet to comment on Mr. Weiner's candidacy, provided this statement through her campaign:
"Anthony Weiner's decision is between him and his family."