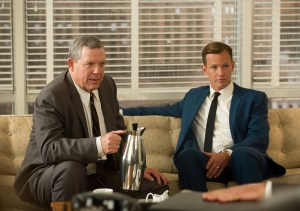 To: Employees of Sterling Cooper Draper Pryce
From: HR
Subject: Office Protocol
To all staff,
Just a quick note about some issues that we have come to our attention of late. 
1) No matter your personal feelings for a client, please remember that they are clients. Respect is of the utmost importance. When somebody extends their hand, it is customary to shake that hand. If that person is a client, it is mandatory. We know that you are creative types (especially those of you in Creative) but our agency thrives on making the client feel like we like them. If you cannot do so, we would prefer you take a personal day than expose our clients to rudeness, however subtle you may think it is. Trust us. They notice.
2)Please be advised that the speaker phone, while a useful invention, means that there may be people other than your intended audience listening to your call. While we don't have a policy against personal phone calls after hours, just be advised: discretion is important. Please adhere to common sense guidelines when it comes to the phone. Otherwise, we may be forced to institute what, for lack of a better term, we may have to call a "social media policy." And nobody wants that.
3) While we know that needs arise and it is not uncommon for our staff to need to step out for the occasional hour or two, your secretary should be able to get in touch with you should an emergency arise. No need to explain. Just leave a phone number that she can reach you at.
4) And finally, we would like to remind our entire staff that should anybody need to deal with their feelings about the late Mr. Pryce, or any other issue (be it foreign or domestic), we have extra whiskey, bourbon, vodka and gin available in the supply closet. If your office supply has run out, it is your secretary's duty to see that the bottle is refilled. Additionally, we have extra toilet paper in the janitor's closet should your wife forget the essentials while marketing. We see no problem with our partners grabbing a roll or two. Anything to keep the peace on the homefront!
Thank you,
Rhonda Sullivan
Head of Sterling Cooper Draper Pryce Human Resources