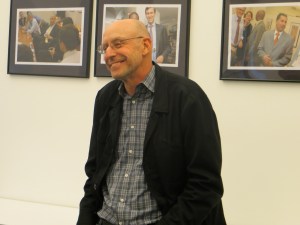 On Thursday morning, esteemed writer Michael Pollan—author of The Omnivore's Dilemma and In Defense of Food, among other bestsellers—took a break from exploring the edible and the environment to stop by The Observer newsroom.
Besides sharing his latest biological findings ("You're only ten percent human. The rest of you is microbes"), Mr. Pollan spoke mainly about finding one's niche as a journalist.
"It's a matter of aligning your passions, or even your mild interests, with what's not being done," he said.
"The culture doesn't know what it wants until it sees it … They want something they haven't even imagined yet."
Michael Pollan, who also teaches journalism at Berkeley, was only the latest notable name to visit The Observer. In the past three months, screenwriter Andy Bellin and journalist Ana Marie Cox also spent time with the bullpen.