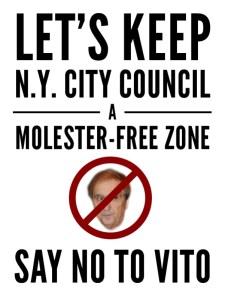 The New Kings Democrats went there, and fast.
Only a couple hours after news broke that Assemblyman Vito Lopez, who is battling sexual harassment allegations, registered a campaign account for a City Council run, the Democratic club launched  a "molester free zone" campaign, complete with a fairly direct flier, illustrating exactly how negative the marquee race will get should Mr. Lopez officially enter it.
"Voters could not have a more striking contrast between two candidates in the 34th city council district," Alex Low, the president of NKD, said in a statement that named Antonio Reynoso as the club's candidate in the race. "Antonio Reynoso, endorsed today by the National Organization for Women, is a champion of women's rights. On the other hand, Vito Lopez has been serially sexually harassing young female staffers. Vito Lopez belongs in jail, not our City Council."
NKD further claimed that they will be distributing the "molester-free zone" fliers throughout the district to combat a possible Lopez candidacy.
Mr. Lopez, who was stripped of his perks and privileges following the allegations last year, has steadfastly denied any wrongdoing, but that's obviously not going to stop his opponents from railing into him on the subject. Accordingly, Mr. Reynoso also slammed Mr. Lopez's filing with what his campaign billed as his "harshest statement to date."
"My community deserves better than a corrupt sexual predator who helped turn Albany into a national disgrace and cringe-inducing cesspool," Mr. Reynoso fumed this afternoon. "If Lopez does move forward with a City Council campaign, he needs to know that his career will end in defeat and embarrassment. Organizations and leaders around the city are rallying around my candidacy, because they know I will deliver honest and ethical leadership."