Morning News Digest: Tuesday, April 23, 2013
By Matthew Arco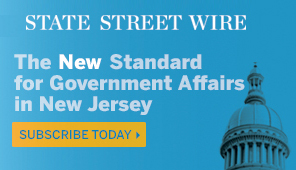 Caraballo running for Newark at-large council seat
Former Assemblyman Wilfredo Caraballo (D-29) is running for an at-large council seat in Newark on a ticket with Shavar Jeffries, his colleague in the law department at Seton Hall University.
Jeffries is not yet a formally declared candidate for mayor. Caraballo said he won't formally announce his council candidacy until May or June. (Pizarro/PolitickerNJ)
http://www.politickernj.com/64868/caraballo-running-newark-large-council-seat
Ramos fundraiser takes aim at 2014 mayor's contest
North Ward Councilman Anibal Ramos will formally kick off the fundraising arm toward a campaign for mayor with a cocktail reception on Thursday, May 30th at the Robert Treat Hotel in Newark.
According to an invitation obtained by PolitickerNJ.com, VIP reception tickets are $500 per head and regular tickets $150 per head in an event representing the unofficial beginning of Ramos's 2014 quest to succeed Mayor Cory Booker. (Pizarro/PolitickerNJ)
http://www.politickernj.com/64867/ramos-fundraiser-takes-aim-2014-mayors-contest
Chiesa: Response team convened immediately after Marathon bombing
TRENTON – New Jersey's Attorney General gave a glimpse Monday into how state officials first responded to last week's bombings at the Boston Marathon.
Jeffrey Chiesa told Senate lawmakers the bombings, which were labeled by the president as acts of terror, immediately prompted law enforcement to ready themselves in the event of a possible attack in the Garden State. (Arco/PolitickerNJ)
http://www.politickernj.com/64865/chiesa-response-team-convened-immediately-after-marathon-bombing
Healy issues 'cease and desist' letter over Dwek ad
Jersey City Mayor Jerry Healy has issued a "cease and desist" letter through his attorney demanding that his opponent stop running an ad showing him at a diner with disgraced former government informant Solomon Dwek.
The letter from attorney William Northgrave of McManimon, Scotland and Baumann calls the ad "defamatory" and demands it be withdrawn immediately. (Isherwood/PolitickerNJ)
http://www.politickernj.com/64864/healy-issues-cease-and-desist-letter-over-dwek-ad
Police increase security for Christie's Bergenfield town-hall meeting
Attendees of Governor Christie's town hall-style event in Bergenfield Tuesday should leave bags at home and be prepared to have personal items checked.

Borough officials noted the increased security measures in an e-mail blast to residents announcing the governor's event. (Hayes/The Record)
http://www.northjersey.com/news/Police_increase_security_for_Christies_Bergenfield_event.html
Republicans launch website targeting 'Corzine Democrats' on tax cut
Former Gov. Jon Corzine has not made any public appearances lately, but New Jersey Republicans are not letting voters forget about him.
The Republican State Committee today launched a website, CorzineDemocrats.com, that includes a countdown clock to count "the days that Corzine Democrats have blocked a tax cut for New Jersey's middle and working class families." (Friedman/Star-Ledger)
http://www.nj.com/politics/index.ssf/2013/04/republicans_launch_website_tar.html#incart_river
Christie to present plan to reform N.J. worker's compensation system
Gov. Chris Christie tonight said he is poised to unveil a plan to reform the state worker's compensation system because neither workers nor employers are following the rules.
"We're going to be coming up with a package of proposals that's going to work both sides of that," Christie told a caller on his monthly NJ 101.5 FM radio show tonight. (Portnoy/Star-Ledger)
http://www.nj.com/politics/index.ssf/2013/04/christie_to_present_plan_to_re.html#incart_river
Democrats may negotiate final N.J. budget before voting against it
Democratic leaders are considering negotiating a state budget deal with Gov. Chris Christie that would force Republicans to defend the spending plan on the campaign trail this fall, The Star-Ledger has learned.
Democrats who hold majorities in both houses would negotiate the details with Christie and the Republicans but only provide the minimum number of votes necessary to pass the spending bill in June, according to two sources familiar with the proposal who requested anonymity because they are not authorized to discuss it publicly. (Renshaw/Star-Ledger)
http://www.nj.com/politics/index.ssf/2013/04/democrats_may_negotiate_final.html#incart_river
Governor, Legislature Tend to Treat School Violence as Local Issue
For all the recent flurry of proposals about gun safety from Gov. Chris Christie and the Democrat-led Legislature, few have sought to change much in the places that have spurred much of the discussion: the local schools.
The Christie-appointed task force created in the aftermath of the Newtown, CT, killings largely praised the steps that New Jersey schools and the state as a whole have taken in ensuring student safety. (Mooney/NJSpotlight)
http://www.njspotlight.com/stories/13/04/22/governor-legislature-tend-to-treat-school-violence-as-local-issue/
New Jersey Delays First General-Obligation Sale Since '09
New Jersey postponed until May 1 its $350 million general-obligation sale, the first such new- money borrowing since 2009, to space out its bond deals.
Officials delayed the borrowing by a week, said William Quinn, spokesman for Treasurer Andrew Sidamon-Eristoff. The New Jersey Transportation Trust Fund Authority sold $878 million of revenue debt last week and the New Jersey Health Care Facilities Financing Authority issued $234 million the week before, data compiled by Bloomberg show. (Kaske/Bloomberg)
http://www.bloomberg.com/news/2013-04-22/new-jersey-postpones-first-general-obligation-sale-since-2009.html
Anheuser Busch, Dick Clark Productions Among Christie Contributors
Anheuser Busch, Dick Clark Productions and former Republican New Jersey governor Thomas Kean are some of the names that appear on Gov. Chris Christie's first campaign filing for his general election account.
The Republican governor faces an election challenge this fall and so far has raised millions for the contest, which he has amassed in his primary election account. But an April 15 campaign filing just made public by the state Election Law Enforcement Commission shows Christie has started to sock away money in his general election account, raising $26,600 so far. (Haddon/Wall Street Journal)
http://blogs.wsj.com/metropolis/2013/04/22/anheuser-busch-dick-clark-productions-among-christie-contributors/
Sandy victims seek lawyers to fight over insurance claims
After her insurance company told her the damage to the roof of her Lavallette cottage left by superstorm Sandy was minor, Diana Rocco made the recommended repairs. Yet on a rainy day two weeks later, she sat in her living room — as the rain poured in.
"I needed an umbrella in my house," she said about what she called the gross underestimate of the damage. "I cried and cried and cried." (Serrano/APP)
http://www.dailyrecord.com/article/20130422/NJNEWS10/304220018/Sandy-victims-seek-lawyers-fight-over-insurance-claims?nclick_check=1
From the Back Room
HCDO, LD33 candidate hoping for reversal in Garcia case on appeals
The Appellate division has stayed a judge's ruling in the case of Carmelo Garcia in order to allow the court to hear appeals.
Backing Garcia, the Hudson County Democratic Organization (HCDO) is aiming at relief to allow the committee on vacancies to convene and select a Garcia replacement if the candidate's appeal fails. (PolitickerNJ)
http://www.politickernj.com/back_room/hcdo-ld33-candidate-hoping-reversal-garcia-case-appeals
Christie's kid newest Met?
We knew Gov. Chris Christie was a Mets fan, but had no idea he has family on the payroll.
Today's personal financial disclosure form by the governor shows a child of his drawing income from the Major League Baseball franchise. (PolitickerNJ)
http://www.politickernj.com/back_room/christies-kid-newest-met
Buono receives $102k in matching funds
Presumptive Democratic gubernatorial nominee Barbara Buono received another $102,526 in state matching funds Friday. (Isherwood/PolitickerNJ)
http://www.politickernj.com/back_room/buono-receives-102k-matching-funds
Latest from State Street Wire
Environmental groups go to court over waiver rule
TRENTON – Environmental groups are fighting the Department of Environmental Protection waiver rule in court.
Twenty-eight organizations – including the Sierra Club, American Littoral Society, Environment New Jersey, N.J. Audubon Society, Pinelands Preservation Alliance, and Save Barnegat Bay – petitioned state Supreme Court to block the Christie administration rule that allows developers to apply for waivers from rules that might be considered unduly burdensome. (State Street Wire)
http://www.politickernj.com/64871/environmental-groups-go-court-over-waiver-rule
N.J.'s aging infrastructure requires long-term, coordinated response, report states
TRENTON – New Jersey must update its antiquated infrastructure in the wake of Superstorm Sandy, a new report states.
To accomplish that goal, the report by Facing Our Future, a bipartisan group whose leaders include former state Cabinet members from both parties, recommends substantive changes to the way state government is structured and operates. (Mooney/State Street Wire)
http://www.politickernj.com/64869/njs-aging-infrastrucutre-requires-long-term-coordinated-response-new-report-states
State police expect to add 500 troopers by November 2014, lawmakers told
TRENTON – The New Jersey State Police expects to add nearly 500 new troopers to its ranks by November 2014, Attorney General Jeffrey Chiesa said Monday.
The head of the Department of Law and Public Safety said during testimony before the Senate Budget Committee that four new state police classes – including the 152nd, which begins today – will add hundreds of more officers to the agency's ranks. (Arco/State Street Wire)
http://www.politickernj.com/64866/state-police-expect-add-500-troopers-november-2014-lawmakers-told
Opinion
Stile: Christie's gun plan plays it safe politically
Governor Christie rolled out a plan Friday aimed at protecting New Jersey residents from gun violence.
His 50 "common sense" recommendations appear also to be a strategy to protect his political future by offering up just enough new restrictions and penalties to satisfy New Jersey's pro-gun control voters without alienating the Second Amendment purists whom he'll have to woo if he runs for the Republican nomination for president in 2016. (Stile/The Record)
http://www.northjersey.com/news/state/204225001_Stile__Christie_s_gun_plan_plays_it_safe_politically_gun_plan_plays_it_safe_politically.html