Morning News Digest: Wednesday, April 24, 2013
By Matthew Arco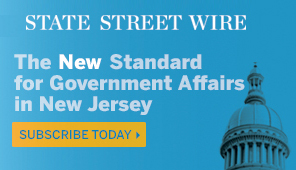 Christie maintains commanding lead over Buono, poll shows

Gov. Chris Christie maintains his commanding lead against presumptive challenger Sen. Barbara Buono, the latest Quinnipiac University poll released today shows.
Buono, the Democratic challenger, trails Republican Christie 58 – 26 percent, according to the poll. (PolitickerNJ)
http://www.politickernj.com/64903/christie-maintains-commanding-lead-over-buono-poll-shows
Newark Schools Advisory Board issues Anderson unanimous no-confidence vote
The Newark Schools Advisory Commission this evening issued a unanimous no-confidence vote in the leadership of Schools Superintendent Cami Anderson.
The vote was 9-0. (Pizarro/PolitickerNJ)
http://www.politickernj.com/64902/newark-schools-advisory-board-issues-anderson-unanimous-no-confidence-vote
'Special interests' stand in way of school reform, Christie says
BERGENFIELD – Gov. Chris Christie blames "special interest" groups on the failure to enact certain school reforms he says are necessary to improving education in New Jersey.
The governor told a friendly Bergenfield crowd Tuesday that Garden State students are in need of more hours in the classroom and longer school years in order to stay competitive. Christie blamed special interests with blocking those changes for purely their own personal interests. (Arco/PolitickerNJ)
http://www.politickernj.com/64896/special-interests-stand-way-school-reform-christie-says
Healy on campaigns: 'they're all ugly'
JERSEY CITY – The door in the back of his headquarters swung open and Mayor Jerry Healy galloped for the front door.
"It's ugly but they're all ugly," Healy told PolitickerNJ.com in reference to the campaign. "I run and they throw s-t at me. I've been inoculated, immunized, whatever you want to call it." (Pizarro/PolitickerNJ)
http://www.politickernj.com/64895/healy-campaigns-theyre-all-ugly
Christie hammers at Dems on tax cuts
BERGENFIELD – Gov. Chris Christie is slamming New Jersey Democrats the exact way he promised to do in recent weeks.
The governor was in Bergenfield Tuesday telling residents at one of his town hall events that if Democrats refuse to act on tax relief before the end of the current legislative session, then it's simply proof "that they will never take their hands off your wallet." (Arco/PolitickerNJ)
http://www.politickernj.com/64893/christie-hammers-dems-tax-cuts
Jersey City and the echoes of 2004
JERSEY CITY – Delighted by President Barack Obama's endorsement of him, Mayor Jerry Healy's Obama-love fusillade continues in Jersey City, where at least one insider said it reminds him of another campaign Healy ran: 2004.
That was when Healy successfully campaigned for his first term as mayor. (Pizarro/PolitickerNJ)
http://www.politickernj.com/64889/jersey-city-and-echoes-2004
Game over? Christie's plan to restrict video games would likely be overturned, experts say
An American soldier leans against the bar. Suddenly he plunges a knife through the hand of a Cuban soldier and smashes him in the face with a beer bottle.
In an instant, the bartender tosses you a rifle, and you and a crew shoot your way out of the bar and through the streets of Havana on a mission to kill Fidel Castro. (Friedman/Star-Ledger)
http://www.nj.com/politics/index.ssf/2013/04/trict_experts_christie_plan_to_res.html#incart_river
Poll: Menendez's image continues to rebound after scandal
Two months after a scandal devastated his poll ratings, Sen. Robert Menendez (D-N.J.) is continuing to bounce back, a Quinnipiac University poll released this morning found.
New Jersey voters approve of Menendez by a margin of 44 percent to 32 percent. (Friedman/Star-Ledger)
http://www.nj.com/politics/index.ssf/2013/04/poll_menendezs_image_continues.html#incart_river
Internet sales tax legislation expected to pass in Senate
A bill that would require online retailers with sales of $1 million or more to collect sales taxes is expected to be approved by the Senate this week, and retail groups are optimistic that the legislation they have been seeking for years will soon be a reality.
"Twenty-four months ago there were still questions about if this legislation would pass. Today, it's really just a matter of when," said Michael Kercheval, president and chief executive officer of the International Council of Shopping Centers. (Verdon/The Record)
http://www.northjersey.com/news/204429541_Internet_sales_tax_legislation_expected_to_pass_in_Senate.html
Watchdog: NJ voters wary of tax-cut talk
Republican Gov. Chris Christie and Democratic state lawmakers have started new talk of a tax cut — but long-suffering New Jersey taxpayers might be in for a replay of futile discussions that took place a year ago, resulting in no action.
New Jerseyans paid a highest-in-the-nation average property tax bill of $7,759 in 2011. Analysts say a political divide and a shortfall in state revenue make it a long shot that a reduction in tax bills is on the way. Yet the topic is expected to be a major issue in an election year. (Jordan/APP)
http://www.app.com/article/20130422/NJNEWS1002/304220002/Watchdog-NJ-voters-wary-tax-cut-talk
NJ Environmental Federation backs Buono for gov
BAYONNE, N.J. – Four years after it endorsed Chris Christie's gubernatorial bid, a major environmental group in New Jersey has announced its backing his likely Democratic opponent in this year's campaign.
The New Jersey Environmental Federation announced its support for state Sen. Barbara Buono's candidacy during a news conference Tuesday in Bayonne. (AP)
http://www.philly.com/philly/news/politics/20130423_ap_njenvironmentalfederationbacksbuonoforgov.html
Christie confident on college merger
TRENTON – Gov. Christie and Rutgers University's president believe a higher education merger can be completed on time, although nearly 2,000 items are still on the to-do list as the July 1 deadline approaches.
Christie said he's confident that Robert Barchi, Rutgers' president, can complete the deal, which breaks up the University of Medicine and Dentistry of New Jersey and gives most of it, including a coveted medical school, to Rutgers. (Delli Santi/AP)
http://www.philly.com/philly/news/new_jersey/20130423_Christie_confident_on_college_merger.html
Christie stumps for tax cut at Bergenfield town hall meeting
Governor Christie again pitched his plan for an income tax credit, this time to residents in Bergenfield Tuesday where he warned lawmakers who don't support it that he'll keep hammering them on the issue until the November election.
Christie was in the borough for his 106th town hall-style event since taking office in 2010. The popular Republican is traveling the state pushing his "Middle-Class Reform Agenda" as he also asks voters to give him a second term in office. (Hayes/The Record)
http://www.northjersey.com/news/state/Christie_holds_Bergenfield_town-hall_meeting.html
Chris Christie's Gun Gamble
The Newtown, Conn., shooting has prompted a handful of states to enact tougher gun laws, and blue-state governors have led the way.
With Congress yet to agree on any federal changes, Maryland Gov. Martin O'Malley and New York Gov. Andrew Cuomo — both thought to be Democratic presidential contenders in 2016 — have shepherded tighter restrictions in their states. In Connecticut, Democratic Gov. Dan Malloy signed a new gun law earlier this month. (Good/ABC News)
http://abcnews.go.com/Politics/OTUS/chris-christies-gun-gamble/story?id=19018480
David Axelrod, Chris Christie to speak at Romney retreat
David Axelrod, one of the chief architects of the campaign that kept Mitt Romney out of the White House, will speak at a retreat hosted by the former Massachusetts governor this June. So will New Jersey Gov. Chris Christie, who some Romney aides blame for their candidate's loss. (Weiner/Washington Post)
http://www.washingtonpost.com/blogs/post-politics/wp/2013/04/23/david-axelrod-to-speak-at-romney-retreat/
Governor Christie feigns jealousy after Bono calls his wife beautiful
If a billionaire rock star had your wife's cell phone number and called her beautiful, would you be jealous?
That's the question Governor Christie posed to attendees of his town hall-style event in Bergenfield Tuesday afternoon, after his wife, Mary Pat Christie, made an unannounced visit on her way to an event in Moonachie. (Hayes/The Record)
http://blog.northjersey.com/thepoliticalstate/7100/governor-christie-feigns-jealousy-after-bono-calls-his-wife-beautiful/
'Jon Corzine' becomes GOP campaign fodder
Gov. Chris Christie may be thinking the upcoming governor's race will come down to a choice between him and Jon Corzine. (AP)
http://www.courierpostonline.com/viewart/20130423/NEWS02/304230048/-Jon-Corzine-becomes-GOP-campaign-fodder
From the Back Room
The Adam Steinberger Effect
Democratic Party canvasser Adam Steinberger's presence in the Steve Fulop campaign has created a stir in the Healy camp.
What is he doing there? (PolitickerNJ)
http://www.politickernj.com/back_room/adam-steinberger-effect
AP Twitter feed hacked
The Associated Press Twitter feed has apparently been hacked. (Isherwood/PolitickerNJ)
http://www.politickernj.com/back_room/ap-twitter-feed-hacked
Latest from State Street Wire
Agriculture chief updates committee on efforts to eradicate insect pests
TRENTON – First the good news.
Agriculture Department Secretary Doug Fischer said Tuesday the state's second Asian longhorned beetle infestation, which was responsible for destroying a great deal of maple and shade trees, has been "completely eradicated."
Now the bad news; there are still other pests out there wreaking havoc around the Garden State, particularly the marmorated stink bug and the emerald ash borer. (Hassan/State Street Wire)
http://www.politickernj.com/64901/agriculture-chief-updates-committee-efforts-eradicate-insect-pests
School lunch program participation on rise, Agriculture secretary says
TRENTON – Agriculture Department officials hailed the increased participation in the state's school lunch program Tuesday.
By the end of this school year, some 1,967 school breakfast programs will have been set up, serving 39.3 million meals, Secretary Doug Fischer told Assembly Budget Committee members. The department anticipates a 2 percent increase in meals in the next school year. (Hassan/State Street Wire)
http://www.politickernj.com/64900/school-lunch-program-participation-rise-agriculture-secretary-says
Shared services bill held up in Assembly, Christie says
BERGENFIELD – If New Jersey residents want to push their local governments toward sharing services, they should put pressure on Assembly Speaker Sheila Oliver, Gov. Chris Christie said.
The governor told residents Tuesday he supports sharing services in cases where residents are calling for the measure. A bipartisan bill, S2, would call for making certain appropriations to help encourage shared services, but it's being held up in the Assembly, Christie said. (Arco/State Street Wire)
http://www.politickernj.com/64899/shared-services-bill-held-assembly-christie-says
Opinion
N.J. lottery deal needs closer scrutiny — fast: Opinion
The countdown to the privatization of the New Jersey Lottery began on April 12, when the Christie administration announced late on a Friday afternoon that it would hand over parts of one of the state's largest and most consistent sources of revenue to a private company. The administration's intentions to privatize the lottery were no secret, but the governor rarely spoke about it until the announcement. (Diegnan/Star-Ledger guest editorial)
http://blog.nj.com/njv_guest_blog/2013/04/nj_lottery_deal_needs_closer_s.html#incart_river
6 months after Sandy, a bit of pessimism
Six months removed from superstorm Sandy, New Jerseyans are proving that it's tough to stay positive while still recuperating from a natural disaster.
In Monmouth University's latest Quality of Life poll, the state's positive rating dropped significantly from the February and December surveys, actually showing the lowest ranking since the university began its polling in December 2010. (Schoonejongen/APP)
http://www.app.com/article/20130424/NJCOLUMNIST25/304240027/Column-6-months-after-Sandy-bit-pessimism?nclick_check=1