Morning News Digest: Friday, April 26, 2013
By Matthew Arco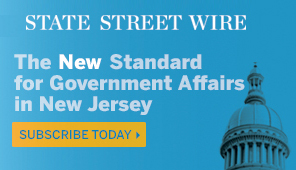 Gun control advocates, lawmakers say they may not support gun control package without ammo clip restriction
Gun control advocates today said they consider a ban on high capacity ammunition clips to be the "cornerstone" of any gun control package and the Senate's failure to include the legislation could jeopardize their support.
"Any package of bills intended to make this state safe must include a limitation on ammunition capacity to 10 rounds or fewer," said Bryan Miller, executive director of Heeding God's Call. "Other states have limitations on magazine capacity and there is no way advocates will allow this state to fall behind others on gun control. We view it as a critical piece of the package and without that critical piece it will be very difficult for us to support it." (Isherwood/PolitickerNJ)
http://www.politickernj.com/64977/gun-control-advocates-lawmakers-say-they-may-not-support-gun-control-package-without-ammo-clip
Greenwald: Gun control must include high capacity magazine ban
Assemblyman Lou Greenwald said today that any package of gun control bills that passes through the Assembly must include a ban on high capacity magazines.
Greenwald is a sponsor of a bill that passed in the Assembly earlier this year that would limit an ammunition clip to 10 rounds. (Isherwood/PolitickerNJ)
http://www.politickernj.com/64966/greenwald-gun-control-must-include-high-capacity-magazine-ban
Doherty charges Mass. Gov. with hypocrisy
State Sen. Michael Doherty today charged the governor of Massachusetts with hypocrisy, and called on the state to release the public assistance records of the two suspected Boston Marathon bombers.
Doherty said the administration of Gov. Deval Patrick allowed law enforcement authorities to trample on the 4th Amendment rights of Watertown residents, yet is citing privacy rights in refusing to disclose records pertaining to various forms of public assistance received by the bombers. (Isherwood/PolitickerNJ)
http://www.politickernj.com/64963/doherty-charges-mass-gov-hypocrisy
Mystery flyer falsely ID'd as paid for by Roselle NAACP stirs challengers in LD 20 contest
The LD 20 Democratic Primary challengers are going on offense with a complaint filed this week demanding an investigation by the United States Postal Inspection Service into the origins of a mysterious flyer.
The challengers allege that a flyer fronting as congratulations by the NAACP to James Wilson of Roselle on his nomination to a Superior Court judgeship in Union County is actually a campaign piece for state Sen. Ray Lesniak (D-20). (Pizarro/PolitickerNJ)
http://www.politickernj.com/64962/mystery-flier-falsely-idd-paid-roselle-naacp-stirs-challengers-ld-20-contest
Sacco and team kick off re-election campaign with Buono at their side
State Sen. Nick Sacco (D-32) welcomed presumptive Democratic nominee for governor Barbara Buono to Hudson this week for Sacco's campaign kickoff.
One of Republican Gov. Chris Christie's favorite targets as a triple dipper, the veteran Sacco embraced Buono at Schuetzen Park Banquet Hall in North Bergen in front of a bulked-up crowd of Hudson County Democratic Organization (HCDO) regulars and rank and file Saccoites. (Pizarro/PolitickerNJ)
http://www.politickernj.com/64957/sacco-and-team-kickoff-re-election-campaign-buono-their-side
Sources: wounded by polls, Buono camp sees a battlefront in Jersey City
Dogged by horrendous poll numbers, the allies of state Sen. Barbara Buono (D-18) need a win, and they see an opportunity in Jersey City.
It's not only the fact that incumbent Mayor Jerry Healy is the only mayoral candidate who has endorsed Buono. (Pizarro/PolitickerNJ)
http://www.politickernj.com/64954/sources-wounded-polls-buono-camp-sees-battlefront-jersey-city
Assembly panel approves bill to overhaul corporate economic incentives
A bill to overhaul the state's business incentive programs that are meant to spur job growth was approved by the Assembly Budget Committee today.
The committee voted 11 to 1 to send the measure (A3680) on to a vote in the full Assembly. (Friedman/Star-Ledger)
http://www.nj.com/politics/index.ssf/2013/04/assembly_panel_approves_bill_t_2.html#incart_river
Influential gun group balks at endorsing Sweeney gun package
The influential Mayors Against Illegal Guns has delayed its public endorsement of state Senate President Stephen Sweeney's gun control package due to concerns over how it deals with extensions of gun purchase permits, The Star-Ledger has learned. (Renshaw/Star-Ledger)
http://www.nj.com/politics/index.ssf/2013/04/influential_gun_group_balks_at.html#incart_river
Man accused of carrying improvised explosives on New Jersey train: report
(Reuters) – A Jersey City man was charged with having explosives material at his home and on a train just days before the Boston Marathon bombings, but authorities said there was no indication he planned to detonate the devices, the Jersey Journal reported on Thursday.
The article on the paper's website also said the man, Mykyta Panasenko, 27, was charged in New Jersey state court and released. (Reuters)
http://www.reuters.com/article/2013/04/26/us-usa-arrests-newjersey-idUSBRE93P04E20130426
NJ spending $25M on ads to dispel devastating Sandy images
New Jersey is hoping that paying $25 million to a politically connected firm will make images of superstorm Sandy's devastation go away.
East Rutherford-based MWW was awarded the contract to design and implement a new tourism marketing and advertising campaign for the state, but New Jersey officials were quiet Thursday about any details of the agreement. (Jordan/APP)
http://www.app.com/article/20130425/NJNEWS/304250221/NJ-spending-25M-ads-dispel-Sandy-images?nclick_check=1
At Cyberbullying Conference, Experts and Educators Try to Define Line Between Texting and Trouble
One of the most vexing legal questions raised by New Jersey's two-year-old anti-bullying law remains how to address incidents that occur online and off school grounds — including nights and weekends.
Cyberbullying was the focus of a daylong conference yesterday at Rutgers University in Newark, where lawyers, scholars, educators, and others discussed the difficulties of drawing a legal line that determines if schools — or parents — are culpable. (Mooney/NJSpotlight)
http://www.njspotlight.com/stories/13/04/24/at-cyberbullying-conference-experts-and-educators-try-to-define-line-between-texting-and-trouble/
Study Touts Economic Gains from Offshore Wind Projects
Up to 600 jobs related to the manufacture of equipment could be created for up to 19 months in South Jersey, according to a study aimed at bolstering a proposed $5 billion offshore wind-transmission line.
The report, commissioned by the Atlantic Wind Connection, concluded that it is feasible to build platforms that would essentially be offshore wind substations that would convert electricity from offshore wind farms to be delivered to customers on shore, according to its sponsors. They declined to release the study, saying it was confidential. (Johnson/NJSpotlight)
http://www.njspotlight.com/stories/13/04/24/study-touts-economic-gains-from-offshore-wind-projects/
Paul leads Rubio in New Hampshire
U.S. Sen. Rand Paul (R-Ky.) leads U.S. Sen. Marco Rubio (R-Fla.), 28-25 percent, among New Hampshire Republicans expressing a preference for the 2016 Republican presidential nomination, according to a poll released Thursday by Public Policy Polling. (Examiner.com)
http://www.examiner.com/article/paul-leads-rubio-new-hampshire
N.J. treasurer grilled on lottery privatization
TRENTON – Democrats finally had an opportunity Thursday to question – and criticize – Republican Gov. Christie's treasurer about the partial privatization of the state lottery. But it appears there is little Democrats can do to stop it.
Barring the plan being struck down by a judge or deemed illegal by U.S. Attorney General Eric Holder, a private consortium known as Northstar New Jersey will take over marketing and sales of the $2.8 billion lottery. (Katz/Inquirer)
http://www.philly.com/philly/news/politics/nj/20130426_N_J__treasurer_grilled_on_lottery_privatization.html
NJ lawmakers to hear testimony on beach access
TRENTON, N.J. – Advocates want New Jersey lawmakers to provide greater beach access in all areas being replenished in the wake of Superstorm Sandy.
The state Senate's Environment and Energy Committee is due to consider a measure Thursday that would establish new criteria for how projects are prioritized under the state's Shore Protection Program. (AP)
http://www.philly.com/philly/news/politics/20130425_ap_njlawmakerstoheartestimonyonbeachaccess.html
Advance Realty acquires Sanofi site in Bridgewater
Advance Realty and a Boston-based investment partner have acquired the former Sanofi U.S. research and development complex in Bridgewater, where the Bedminster-based developer will soon relocate its headquarters, the companies announced today. (Burd/NJBIZ)
http://www.njbiz.com/article/20130425/NJBIZ01/130429883/Advance-Realty-acquires-Sanofi-site-in-Bridgewater
Christie vetoes Democratic-backed Sandy oversight bill, calls it redundant
Governor Christie today vetoed a Democratic-backed bill that would have required the state treasurer to produce quarterly reports on federal disaster aid and maintain a website detailing how the funds are being spent following superstorm Sandy.

In his veto message, the governor said the bill would create "unnecessary redundancies and waste government resources" because the executive order he signed in February established comprehensive oversight of the funds. (Hayes/The Record)
http://www.northjersey.com/news/Christie_vetoes_Democratic-backed_Sandy_oversight_bill_calls_it_redundant.html
From the Back Room
Ammunition clip restriction not part of Senate gun control package
A bill that would limit the size of an ammunition clip to 10 rounds will not be part of the Senate gun control package introduced today, according to a source familiar with the legislation. (Isherwood/PolitickerNJ)
http://www.politickernj.com/back_room/ammunition-clip-restriction-not-part-senate-gun-control-package
Christie campaign snags endorsement of N.J. GOP congressional delegation
Gov. Chris Christie picked up the endorsements of New Jersey's congressional Republican delegation, the governor's re-election campaign announced Thursday.
The six Republican members of the Garden State's congressional delegation announced their "unanimous support" for the Republican incumbent. (Arco/PolitickerNJ)
http://www.politickernj.com/back_room/christie-campaign-snags-endorsement-nj-gop-congressional-delegation
Latest from State Street Wire
Tax incentive bill clears Budget Comm.
TRENTON – Assembly lawmakers cleared a bill from committee Thursday that aims to streamline the state's tax incentive structure to foster targeted development and economic growth.
The Assembly Budget Committee released A3680, known as the "Economic Opportunity Act," which will upgrade and update the tax incentive structure, according to the legislation's proponents. The bill was released from committee following a nearly unanimous vote and little discussion. (Arco/State Street Wire)
http://www.politickernj.com/64973/tax-incentive-bill-clears-budget-comm
Senate Dems unveil package of gun bills
Senate Democrats unveiled a package of gun bills Thursday.
The bills include a new electronic system for instant background checks that will be a national model for gun safety, according to their release. The Senate Democrats said their proposed legislation is stronger than that of Colorado, which President Obama recently recognized as having provided a model for the nation on gun laws. (State Street Wire)
http://www.politickernj.com/64970/senate-dems-unveil-package-gun-bills
Allen introduces trio of firearms penalty bills
TRENTON – Sen. Diane Allen introduced a package of firearms-related bills Thursday.
The bills S2706-08, deal with various aspects of gun crimes and have companions in the Assembly. (State Street Wire)
http://www.politickernj.com/64968/allen-introduces-trio-firearms-penalty-bills
Grant: Courts working to do more with less
TRENTON – New Jersey's judiciary is being forced to do more with less, according to top New Jersey Courts officials.
Judiciary officials testified before the state's Assembly Budget Committee Thursday, telling lawmakers that state funding is failing to keep pace with "normal growth in operational costs," said Judge Glenn Grant, the acting administrative director of the courts. (Arco/State Street Wire)
http://www.politickernj.com/64965/grant-courts-working-do-more-less
Opinion
Chris Christie Is Right About Parents and Violent Video Games—But His Policy Is Wrong
New Jersey Gov. Chris Christie has fashioned himself as a GOP maverick of late, upsetting people in his own party almost as often as political opponents. From praising President Obama's response to Hurricane Sandy last year, to seeking a ban on the .50 caliber Barrett rifle more recently, he keeps managing to ruffle Republicans' feathers. (Mother Jones)
http://www.motherjones.com/mojo/2013/04/chris-christie-violent-video-games-guns
Fighting fake farmers: Editorial
A banker grows fir trees on his five-acre estate and sells them to neighbors at Christmastime. A Fortune 500 company grows corn between office buildings on its suburban campus. Both claim property tax breaks up to 98 percent. (Star-Ledger)
http://blog.nj.com/njv_editorial_page/2013/04/fighting_fake_farmers_editoria.html#incart_river