Morning News Digest: Thursday, April 04, 2013
By Matthew Arco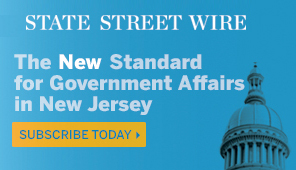 Democrats aren't going 'all the way,' O'Scanlon argues
TRENTON – Assemblyman Declan O'Scanlon (R-13) disputed the notion that what Gov. Chris Christie has had during his tenure to date – a compliant opposition Democratic Party – is more desirable than a Republican Legislative Majority.
"The problem is there have been a few instances where they have reached across the aisle, yes," O'Scanlon acknowledged in reference to the Democratic majority. "But we need them to be bipartisan on these and other issues. They're not going all the way." (Pizarro/PolitickerNJ)
http://www.politickernj.com/64430/democrats-arent-going-all-way-oscanlon-argues
Wisniewski: the GOP wants to re-litigate 2009
TRENTON – State Party Chairman John Wisniewski swatted aside Republicans' ongoing efforts to pin the tag "Jon Corzine" on the Donkey called the New Jersey Democratic Party.
"There are a lot of former Democratic governors," said Wisniewski, who serves as an assemblyman in the 19th Legislative District. "Governor Florio, Governor Byrne. (Pizarro/PolitickerNJ)
http://www.politickernj.com/64429/wisniewski-gop-wants-re-litigate-2009
Treasury reports March revenues
TRENTON – The Treasury Department reported Wednesday that income tax collections over the first nine months of fiscal year 2013, coupled with a third month of strong sales tax collections, resulted in overall revenues for March that surpassed budgeted levels by $25.7 million.
March revenues exceeded the revised budgeted level for the month by 1.4 percent, with income taxes 17.6 percent, and sales taxes 4.3 percent ahead of target, Treasury reported. (PolitickerNJ)
http://www.politickernj.com/64428/treasury-reports-march-revenues
In Focus: LD 7 Assembly Republican candidates see opportunity with Christie at top of ticket
TRENTON – Wide open spaces dotted with dying horse farms, biodiversity-challenged pockets of Pinelands and riverfronts be-speckled with equal parts industrial ruin and stubborn mom and pop storefronts form the car window highway flotsam of Legislative District 7, perennial New Jersey battleground.
Democratic incumbents Assemblyman Herb Conaway (D-7) and Assemblyman Troy Singleton (D-7) defeated their challengers two years ago in a donnybrook, and this year, the GOP trusts Republican Gov. Chris Christie at the top of the party ticket will give the incumbents fits. (Pizarro/PolitickerNJ)
http://www.politickernj.com/64427/focus-ld-7-assembly-republican-candidates-see-opportunity-christie-top-ticket
Buono: Further investigation necessary after coach's dismissal
NEW BRUNSWICK – Democratic gubernatorial contender state Sen. Barbara Buono says a legislative hearing into many of the unanswered questions surrounding the fired Rutgers head basketball coach may be the "necessary next step" for state officials to take.
Buono said during a news conference near Rutgers University's campus center this afternoon that the college's board of governors should investigate whether others at the university were aware of former Coach Mike Rice's controversial coaching style. (Arco/PolitickerNJ)
http://www.politickernj.com/64425/buono-further-investigation-necessary-after-coachs-dismissal
13 Rutgers faculty members call for president's resignation in wake of coaching scandal
TRENTON, N.J. — Thirteen Rutgers University faculty members are demanding the resignation of university President Robert Barchi over his response to a video showing basketball coach Mike Rice hitting, shoving and berating his players with anti-gay slurs.
The professors' letter to the school's trustees and Board of Governors calls for Barchi's job. It says his handling of the "homophobic and misogynist abuse" was inexcusable. (AP)
http://www.washingtonpost.com/sports/13-rutgers-faculty-members-call-for-presidents-resignation-in-wake-of-coaching-scandal/2013/04/03/b7ca7910-9cc8-11e2-9219-51eb8387e8f1_story.html
Legislators concerned about budget, question transportation chief
Legislators on Wednesday grilled New Jersey's transportation chief on Governor Christie's $3.8 billion transportation budget for 2014, a plan they fear could saddle taxpayers with new debt in exchange for paved roads, reliable train service and bridges that are safe to cross.
The animated back-and-forth between Transportation Commissioner Jim Simpson and Sen. Paul Sarlo, chair of the Senate Budget Committee, came during a hearing on Christie's proposed plan exposed the fragility of the state's transportation funding structure. (Rouse/The Record)
http://www.northjersey.com/news/Legislators_concerned_about_budget_question_transportation_chief.html
New projections estimate $300M revenue shortfall for New Jersey
Tax collections met Governor Christie's revenue projections in March, but a non-partisan legislative budget analyst is now projecting a $300 million revenue shortfall by the end of the current fiscal year.
Lawmakers are reviewing the $32.9 billion spending plan Christie proposed in February and are scheduled to hear more about the budget issues from both state Treasurer Andrew Sidamon-Eristoff and non-partisan legislative budget analyst David Rosen on Thursday. (Reitmeyer/The Record)
http://www.northjersey.com/news/New_projections_estimate_637M_revenue_shortfall_for_New_Jersey.html
Housing advocates sue Christie administration to get copies of Sandy contract
New Jersey housing advocates said today they are taking Gov. Chris Christie's administration to court, alleging that state officials are withholding contract documents that show how $5 billion in Hurricane Sandy relief funds will be managed.
The Fair Share Housing Center said it has tried to get copies of all five bids that New Jersey received before the administration hired a consultant, CDM Smith of Massachusetts, to help design how $5 billion in federal disaster-relief funds would be spent. (Rizzo/Star-Ledger)
http://www.nj.com/politics/index.ssf/2013/04/housing_advocates_sue_christie.html#incart_river
Sweeney takes to ESPN to blast Rutgers AD Pernetti for not firing Mike Rice earlier
New Jersey Senate President Stephen Sweeney took to ESPN today to express his disappointment with Rutgers University over the actions that led to the firing of basketball coach Mike Rice.
Sweeney appeared on ESPN's "Outside the Lines" program this afternoon, where the video of Rice swearing at and abusing players during practice was first shown to the public on Tuesday. (Wright-Plersanti/Star-Ledger)
http://www.nj.com/news/index.ssf/2013/04/sweeney_condemns_rutgers_ad_pe.html#incart_river
Christie top contender against Clinton if he can survive GOP primary, poll shows
Gov. Chris Christie would have the best shot of any Republican against Hillary Clinton in the 2016 presidential election, according to a national poll released today.
But Clinton, the former secretary of state and New York senator, would still come out the winner, 46 percent to 42 percent, the Public Policy Polling survey showed. (Rizzo/Star-Ledger)
http://www.nj.com/politics/index.ssf/2013/04/christie_top_contender_against.html#incart_river
Feds subpoena 'economic development' spending records from the DRPA
FEDERAL PROSECUTORS want details about how the Delaware River Port Authority spent millions of public dollars in the past five years on projects that had nothing to do with the agency's mission of operating bridges and a rail line over the Delaware River.
The chief of the U.S. Attorney's Office's public-corruption unit in Philadelphia sent the DRPA a subpoena two weeks ago for all records about that spending, dating to January 2008. (Brennan/Daily News)
http://www.philly.com/philly/news/politics/nj/20130404_Feds_subpoena__economic_development__spending_records_from_the_DRPA.html
Do Gun Buybacks Reduce Gun Violence?
State officials, with the help of local authorities, have been conducting a gun buyback campaign in several New Jersey cities, an effort to reduce gun-related crimes that they say was planned before the Newtown, CT, shooting. Since December, the state has spent $1.2 million on five buybacks. They've collected a record haul of more than 9,000 firearms, including rocket launchers, assault weapons, and submachine guns.
No one seems to dispute that it's good idea to get those items off the street. But some question whether the effort is truly effective or worth the cost. (Kalet/NJSpotlight)
http://www.njspotlight.com/stories/13/04/04/do-gun-buybacks-reduce-gun-violence/
Developers of Solar Grid-Supply Systems Band Together
Developers of solar grid-supply systems – which supply electricity directly to the regional power grid — have formed a new trade group aimed at convincing legislators and a state agency of the benefits of their projects, most of which are locked in bureaucratic limbo.
The formation of the New Jersey Solar Grid-Supply Association comes at critical juncture for the state's once flourishing solar sector, which has seen investment dry up because of a steep fall in prices owners of solar arrays earn for the electricity their systems produce. (Johnson/NJSpotlight)
http://www.njspotlight.com/stories/13/04/03/developers-of-solar-grid-supply-systems-band-together/
Three Dozen Applicants Submit Bids for Charter Schools
With interest hardly abating, nearly 40 applications were filed this week to open new charter schools in New Jersey – a vast majority in cities and one with a notable political name in its title.
The state had received 38 applications by Monday's deadline for the latest round of charter bids, all for schools seeking to open in the fall of 2014. (Mooney/NJSpotlight)
http://www.njspotlight.com/stories/13/04/03/three-dozen-applicants-submit-bids-for-charter-schools/
Opinion
With Mike Rice gone, what's next for Rutgers: Editorial
Mike Rice is no longer Rutgers' employee, but he's still their problem. There are still too many questions that need answers, about how the basketball coach could stay on the payroll after hurling basketballs and homophobic slurs at his players.
Tim Pernetti, the athletic director, and Robert Barchi, the university's president, reversed course yesterday while video of Rice's ball-throwing, anti-gay tirades was still swirling atop the news cycle. They executed a speedy about-face and fired Rice — a move months overdue. Both said their mea culpas and went back to work. (Star-Ledger)
http://blog.nj.com/njv_editorial_page/2013/04/with_mike_rice_gone_whats_next.html#incart_river
Wise candidate would look to the fed up
Much of the media focus on a recent Gallup poll focused on national respondents' views of the Republican Party.
Of those polled, 21 percent said what they disliked about the GOP was that it was "inflexible" and "unwilling to compromise." (Schoonejongen/APP)
http://www.app.com/article/20130403/NJCOLUMNIST25/304030047/Wise-candidate-would-look-fed-up?nclick_check=1