Morning News Digest: Friday, April 05, 2013
By Matthew Arco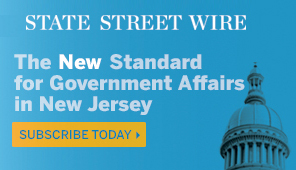 The Heldrich Hotel: In the room, and not in the room
NEW BRUNSWICK – Three men wandered into the Heldrich Hotel.
"Essex has arrived," declared Ironbound brand name Joe Parlavecchio, longtime leader of the East Ward Democratic Committee. (Pizarro/PolitickerNJ)
http://www.politickernj.com/64466/heldrich-hotel-room-and-not-room
LD 14 in Focus: Greenstein on Inverso challenge: 'I think it's another tough race'
NEW BRUNSWICK – With apologies to state Sen. Jim Whelan (D-2), New Jersey's most battle-tested legislator stood in the background of tonight's event as she prepares for a challenge from former state Sen. Peter Inverso.
"Another race," said state Sen. Linda Greenstein (D-14). "It's my ninth." (Pizarro/PolitickerNJ)
http://www.politickernj.com/64465/ld-14-focus-greenstein-inverso-challenge-i-think-its-another-tough-race
At Jefferson Jackson Dinner, Buono targets 'trickle down' Christie; plus full remarks
NEW BRUNSWICK – Naysayers joked in the lead up that the event would prove an onslaught of anemia, but the State Democratic Committee's annual Jefferson-Jackson Dinner tonight appeared to prop up a party with a pulse as it wades into a contest with Republican Gov. Chris Christie.
Challenging Christie even as better known leaders ducked him, Democratic Gubernatorial candidate Barbara Buono received a big, hearty, sustained round of applause and standing ovation from the crowd in her home county of Middlesex. (Pizarro/PolitickerNJ)
http://www.politickernj.com/64464/jefferson-jackson-dinner-buono-targets-trickle-down-christie
Oliver urges Democrats to rally around Buono at Dems' Jefferson-Jackson Dinner
NEW BRUNSWICK – Speaker Sheila Oliver (D-34) tonight put on her Election Year game face for gubernatorial candidate state Sen. Barbara Buono (D-18) and urged fellow Democrats to do the same in the name of banishing Gov. Chris Christie and his Republican agenda.
"I have come here tonight with one singular message – let's get our act together and let us not fall into the trap of self-deprecation with the notion that we cannot elect Barbara Buono as governor. (Pizarro/PolitickerNJ)
http://www.politickernj.com/64463/oliver-urges-democrats-rally-around-buono-dems-jefferson-jackson-dinner
Sweeney says Rutgers' Pernetti 'must go'
TRENTON — Rutgers University's athletic director is the latest college official that at least one state lawmaker is calling on to resign or be fired.
Senate President Steve Sweeney issued a statement Thursday afternoon calling on Athletic Director Tim Pernetti to "either step down or be fired immediately." The statement comes a day after Rutgers fired the college's head basketball coach following the release of a video showing him verbally and physically abusing players. (Arco/PolitickerNJ)
http://www.politickernj.com/64447/sweeney-says-rutgers-pernetti-must-go
Pallone: Absolutely interested in running for Senate next year
ASBURY PARK – U.S. Rep. Frank Pallone (D-N.J.) is absolutely interested in running for Senate next year, but right now he says he's focused on getting Democrats elected to office on the state level.
Pallone wouldn't say Thursday during a news conference along Jersey's coast whether he's closer to a decision of running for Senate in 2014. Rather, the congressman said he's focused on state elections – particularly in Democratic state Sen. Barbara Buono's run for governor. (Arco/PolitickerNJ)
http://www.politickernj.com/64442/pallone-absolutely-interested-running-senate-next-year
N.J. treasurer defends state budget, despite revenue shortfall
Governor Christie's treasurer defended the proposed state budget for the first time Thursday before lawmakers who raised concerns about the administration's plan to delay millions in residential property tax relief this year.
State Treasurer Andrew Sidamon-Eristoff told the Assembly Budget Committee the new spending plan reduces one-shot revenue gimmicks while also boosting aid for schools and public employee pensions. (Reitmeyer/The Record)
http://www.northjersey.com/news/NJ_lawmakers_receiving_budget_updates.html
Passaic mayoral candidate sues city to drop out of race
Passaic mayoral candidate Geovanni Regalado has sued the city, claiming he wants to drop out of the race so he can throw his support behind Jose Sandoval, but City Clerk Amada Curling won't let him off the ballot.
In a lawsuit, Regalado says he went to City Hall on the morning of March 21 to formally withdraw from the race. But Curling, who that day was drawing ballot positions for the May 14 election, told him it was too late to withdraw, according to a lawsuit filed in Passaic County Superior Court last week. (Cowen/The Record)
http://www.northjersey.com/news/Passaic_mayoral_candidate_sues_city_to_drop_out_of_race.html
More Rutgers faculty seek firings in coach case
NEW BRUNSWICK, N.J. — The call from faculty members and politicians to oust top Rutgers University administrators grew louder Thursday, a day after men's basketball coach Mike Rice was fired for mistreating players, shoving them and berating them with gay slurs.
More than 50 faculty members signed a letter calling for the dismissal of Athletic Director Tim Pernetti and an explanation from President Robert Barchi for why he didn't fire Rice last year when he learned of a video showing Rice's behavior during practices. (Rahman & Delli Santi/AP)
http://www.star-telegram.com/2013/04/04/4748678/rutgers-alumni-call-for-probe.html
Record number of GOP women running for N.J. offices this year
TRENTON – A record number of Republican women are running for state office this year, including one who will face off against the highest-ranking Democrat in the state, Senate President Stephen Sweeney (D., Gloucester).
A total of 75 women filed for state candidacy this year, including 29 Republican Assembly candidates and nine Republican Senate candidates, the highest percentage of women the GOP has ever put up, according to the Center for American Women in Politics at Rutgers University. (Farrell/Inquirer)
http://articles.philly.com/2013-04-04/news/38281365_1_women-voters-republican-women-debbie-walsh
Treasury vs. OLS, Round 2: Rosen Warns of $637 Million Revenue Gap
This time last year, Gov. Chris Christie dismissed David Rosen, budget officer for the nonpartisan Office of Legislative Services, as the "Doctor Kevorkian of the numbers" for daring to suggest that his revenue estimates were overinflated by $537 million.
So what is he going to call Rosen this year, now that the OLS fiscal expert is projecting an even larger $637 million gap over the next 15 months? (Magyar/NJSpotlight)
http://www.njspotlight.com/stories/13/04/05/treasury-vs-ols-round-2-rosen-warns-of-637-million-revenue-gap/
State's Top Court Curbs How Far DEP Can Go With Wetlands Inspections
How much latitude does the New Jersey Department of Environmental Protection have to inspect for violations of the state's freshwater wetlands protection law?
Perhaps not as much as lawmakers envisioned when they enacted the law in 1987 during former Gov. Thomas Kean's administration, a measure widely regarded by the environmental community as one of the signature achievements of his terms. (Johnson/NJSpotlight)
http://www.njspotlight.com/stories/13/04/04/state-s-top-court-curbs-how-far-dep-can-go-with-wetlands-inspections/
Candidates in South Jersey have little to no political experience
A fresh crop of South Jersey candidates vying for legislative seats this year have impressive backgrounds but little or no political experience.
On the Republican side, they include a Marine who participated in the invasion of Iraq, and his running mate, a law firm partner who was a Delran police detective, sheriff's officer, and appointed mayor. (Hefler/Inquirer)
http://www.philly.com/philly/news/politics/nj/20130405_Candidates_in_South_Jersey_have_little_to_no_political_experience.html
Study Says A Clear Majority Now Favors Legalizing Marijuana
A Pew Research Center report says that, for the first time in 40 years, a poll conducted last month reveals the majority of Americans favor marijuana legalization. The number jumped 11 points since 2010, to 52 percent, with 45 percent against it.
And, 77 percent of those polled recognize the validity of medical marijuana. The majority was smaller in 1997, when an ABC News survey reported 58 percent believed marijuana has legitimate medical uses. (Hefler/Inquirer)
http://www.philly.com/philly/blogs/burlington/Study-Says-A-Clear-Majority-Now-Favors-Legalizing-Marijuana.html
N.J. Supreme Court ends long-running case on DEP searches
In a case that raised — but never answered — the question of whether the Department of Environmental Protection has the right to search a resident's property without permission, the state Supreme Court today ruled a Clinton Township couple must tear down several decade-old landscaping projects on their property because they live in New Jersey's protected wetlands.
In a 7-0 decision, the justices also upheld a $4,500 fine on the couple, Robert and Michelle Huber, that had been sought by DEP. (Rizzo/Star-Ledger)
http://www.nj.com/politics/index.ssf/2013/04/nj_supreme_court_ends_long-run.html#incart_river
Freeholders criticize BCC for hiring outside PR firm; firm head says work will be pro bono
Members of the Freeholder board are criticizing Bergen Community College's decision to hire an outside public relations firm headed by a former campaign adviser of the County Executive.
But Alan Marcus, who runs the PR and crisis management firm the Marcus Group, shot down the controversy, saying he'd be working for the school free of charge and calling allegations of foul play "offensive." (Sullivan/NJ.com)
http://www.nj.com/bergen/index.ssf/2013/04/freeholders_criticize_hiring_out_outside_pr_firm_at_bcc_firm_head_says_work_will_be_pro_bono.html#incart_river
Opinion
Opinion: Supreme Court should avoid fundamental Roe v. Wade mistake in gay marriage ruling
The two days of arguments over same-sex marriage at the United States Supreme Court reveal that what appears to be a majority of the justices are reluctant to issue a sweeping ruling on the constitutionality of the practice.
The reluctance is perfectly understandable: The pall of Roe v. Wade, decided in 1973, continues to hang over the legitimacy of the court, and repeating the mistake of that case is wisely avoided. (Sullivan/Times of Trenton guest column)
http://www.nj.com/times-opinion/index.ssf/2013/04/opinion_supreme_court_should_a.html
Editorial: NRA proposal for more guns in schools is more about boosting gun sales than safety
The NRA-funded plan on how to keep children safer in school is — surprise! — to get more guns into their schools post haste.
The School Shield Task Force initiatives unveiled this week would start reasonably — just as the National Rifle Association did many years ago — with armed guards. (Times of Trenton)
http://www.nj.com/times-opinion/index.ssf/2013/04/editorial_nra_proposal_for_mor.html