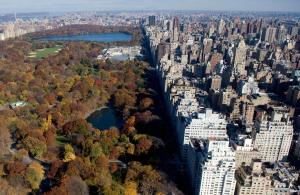 In each issue of NYO, The Observer's new real estate and lifestyle supplement, we will spotlight a different neighborhood. And what better neighborhood to start with than the venerable, diverse, complicated, constantly evolving Upper East Side, where The Observer was born and first trained its sights. The Upper East Side encompasses a large swath of Manhattan—stretching from 59th Street to 96th, Central Park to the East River, an area that is hard to sum up in one simple piece. It is home to the world's most prestigious addresses, with Fifth Avenue, Park Avenue, Gracie Mansion, numerous celebrities, many of New York's world-class museums on Museum Mile, and the finest, most high-end retail, with designer flagships lining Madison Avenue, high-end galleries and incomparable dining sprinkled about.
It is also home to one of the city's longest-running construction projects, the Second Avenue Subway, which has disrupted residents, merchants and traffic farther to the east for the last seven years. But the end is in sight. The project is slated for completion in 2016. And the removal of those barricades and final silence of the jackhammers will just be harbingers of the renaissance of a transportation corridor, and the neighborhood surrounding it. The advice of many a real estate professional: Buy soon if you can, rather than kick yourself later with 20-20 hindsight when the subway is done.
In recent years, the Upper East Side has, according to some experts, lost some of its luster as the magnet for the young, the hip and the cool arriving in New York to make their mark. But with its great schools, parks and amenities, it remains a draw for families, and others looking for a good value in a city that, even through a severe downturn, remains strong, vibrant and safe, and where owning even a tiny piece of the pie is an investment that seldom goes sour.
Robert Schulman, associate broker and executive managing director at Warburg Realty, says that now is a great time to buy on the Upper East Side, because the neighborhood is where you can get the best value. "In the past few years, it wasn't appreciating as fast as other neighborhoods, so you get the most for your money," he says. At the same time, he cautions that the opportunity to get great value won't last long. "Prices on condos, co-ops and townhouses are steadily increasing."