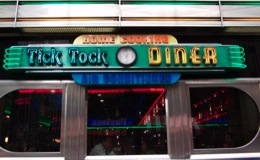 In a move like something out of a bad mafia film, a New Jersey diner manager was arrested this week for hiring a hit man to bump off his uncle, authorities said.
Georgios Spyropoulos, the 45-year-old manager of the Tick Tock Diner in Clifton, N.J., had beef with his uncle, 57-year-old Alexandros Sgroudos, the owner of the famous franchise.
At a press conference this week New Jersey attorney general Jeffrey Chiesa said Mr. Spyropoulos promised the cop-posing-as-hit man $20,000 for the deed. He paid the cop $3,000 in advance and provided him with a photograph of his uncle, a map of his home in Clifton and his daily schedule. The nephew also instructed his hired associate to get the combination to his uncle's safe before he he rubbed him out and disposed of the body, and told him to take out his uncle's wife too, if she caused any problems, police said.
Mr. Spyropoulos was arrested on charges of conspiracy to commit murder, attempted murder and unlawful possession of weapons. Upon investigation, police found two semi-automatic handguns, a shotgun and rifle in Mr. Spyropoulos' home, and six cell phones and a few thousand dollars in cash in his Mercedes Benz.
"This is sort of out of a script right in New Jersey, where you're going to meet at the Tick Tock diner to rub out your uncle to advance yourself," Mr. Chiesa told the press. "I understand that reaction of it, but from a law enforcement perspective, we're focused on the safety of the person who is the target."
According to the Daily News, the would-be mobster also sexually harassed at least three female employees and threatened to have them killed. The women reported the incident in 2012, though no arrests or criminal charges were made.
Mr. Spyropoulos is being held in lieu of a $1 million bail at the Passaic County Jail.