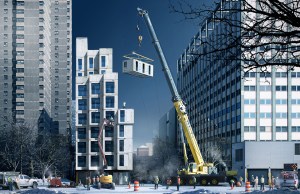 New York's first micro-apartment building hasn't even broken ground yet, but the city is already planning more. At a luncheon hosted by the Citizens Housing Planning Council today, Department of Housing Preservation and Development Commissioner Matthew Wambua announced that new requests for proposals will be issued for more micro-apartment sites.
"We are considering RFPs for two or three micro-unit developments later this year," a HPD spokesman told The Observer after the event. "We're in the process of vetting a number of city-owned sites, and RFP guidelines will be tailored to the chosen sites."
The announcement comes a few months after Monadnock Development, Actors Fund Housing Development Corporation and nARCHITECTS were selected from among 33 development teams, including names like the Durst Organization and Ron Moelis's L+M Development Patners, as the winners of the adAPT NYC contest.
Their building, to be constructed using prefabricated techniques on a city-owned site at 335 East 27th Street in Kips Bay, will feature 55 apartments spread out over ten stories, ranging in size from 250 to 370 square feet. Forty percent of the units will be "affordable," in this case defined as having rents from $940 to $1,800 per month.
After Mr. Wambua spoke, Republican mayoral candidate Joe Lhota accepted CHPC's Roger Starr Public Service award, and gave a short speech outlining his views on affordable housing, which he called New York City's most pressing concern.
Mr. Lhota stated that he would prefer to incentivize the production of affordable housing units through tax credits rather than the direct provision that characterized the Koch administration.
He also spoke about the need for retail and supermarkets at New York City Housing Authority projects, perhaps alluding to NYCHA's Land Lease program that will see private developments rise on parking lots and other underutilized land in Housing Authority projects.