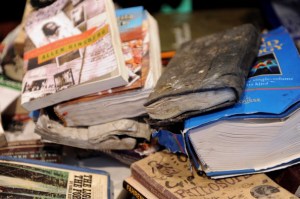 The City of New York has finally agreed to pay Occupy Wall Street for the property destroyed in the Zuccotti Park police raid on Nov. 15, 2011.
OWS initiated a suit on May 24, 2012, seeking compensation for the destruction of their People's Library—a collection of over 5,000 donated books. About 3,600 of these were ruined during the early morning eviction of the protest camp.
The City agreed to settle yesterday, awarding $47,000 in damages to OWS and $186,349.58 in attorney fees to their lawyers.
"We're very pleased with the resolution of this suit," said Herbert Teitelbaum, a lawyer representing the plaintiffs. "The city acknowledged that what happened in the park on the night of the Zuccotti Park raid was inappropriate."
According to Mr. Teitelbaum, the City rarely accepts liability when entering agreements such as this one. In collective settlement fees, the City will be coughing up over $400,000—including $75,000 in damage fees and $49,850 in attorney fees to Global Revolution T.V. An environmental nonprofit, Time's Up, will receive $8,500 for 16 "energy" bicycles that were destroyed in the raid.
Third party defendant Brookfield Office Properties Inc., the owners of Zuccotti Park, will indemnify the City $15,666.67.
"We think that books are important and the destruction of books is a very disturbing thing, particularly when the government does it," said Mr. Teitelbaum to The Observer.