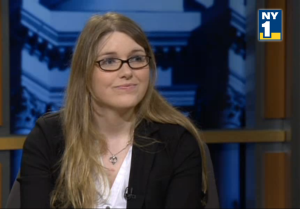 This paper, The New York Observer, has hired Jill Colvin, a politics reporter at DNAinfo.com, to contribute both to its print publication and the Politicker blog, Ken Kurson, The Observer's editor in chief, announced today. Mr. Kurson said he couldn't be more pleased with the move as national attention turns to New York City's high-profile mayoral race this year.
"We are thrilled to welcome Jill Colvin to our politics desk," he explained. "New York City in 2013 is the single most fascinating political story in the country and adding a reporter with Ms. Colvin's depth, experience and storytelling skills allows The New York Observer to cover our city's politics with maximum insight."
Ms. Colvin, set to begin work in two weeks, has received a number of recognitions for her reporting, including for a recent in-depth look at the city police department's controversial stop-and-frisk tactic. She also made news by documenting city council members' fear of Speaker Christine Quinn's wrath back in February and for fun stories like the "abysmal" evaluation of the mayoral candidates' logo designs.
In addition to her three years of work at DNAinfo, Ms. Colvin previously worked as Columbia Daily Spectator, Canada's Globe and Mail, the New York Daily News and the London Bureau of The Washington Post.
"The Observer has done a wonderful job covering the election so far," Ms. Colvin told Politicker. "I'm extremely excited to join the team."