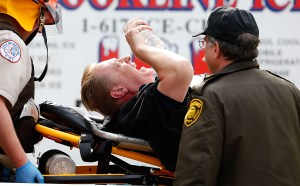 As more details of the deadly explosions in Boston are released, the running community is slowly reacting to the shocking events.
Mary Wittenberg, the President and Chief Executive Officer of New York Road Runners, issued a statement lamenting the devastation and its impact on the running community in particular.
"All of our thoughts and prayers are with the victims and their families of the bombings at the Boston Marathon today, as well as with the runners, spectators, volunteers and staff of the Boston Athletic Association," she said.
"Marathons bring out the best of the human spirit and unite our cities and towns. This is a tragic day for all of us in the running community. We are here in full support of our close friends at the BAA."
An unnamed law enforcement source told the New York Post that the original target may have been the New York  City Marathon, with Boston being the hypothetical back-up plan.
"This changes everything [in New York],'' the source speculated. "Everyone's on high alert. Our marathon was canceled in November. Who knows if that changed someone's plans?'
For her part, Ms. Wittenberg reiterated her own event's commitment to security.
"The safety and security of all New York Road Runners' races is and will always be our top priority," she said. "We will continue to work hand in hand with the City of New York and the NYPD as we plan for upcoming events."