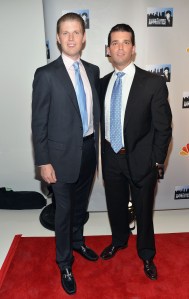 AT JUST 23, ERIC TRUMP DECIDED that young people should do more for their community, so he started his own charitable foundation, the eponymous Eric Trump Foundation, which is committed to improving the lives of children who are battling life-threatening diseases at Saint Jude Children's Hospital, an institution with a unique and amazing mandate: no child is ever turned away. To date, ETF has raised more than six million dollars for the hospital, and with Mr. Trump's lean infrastructure, it has become a global blueprint for how to successfully run a nonprofit organization and donate money without spending it. The 30-year-old Mr. Trump is a busy guy—working as executive vice president of development and acquisitions at The Trump Organization as well as starring on the smash TV show The Apprentice alongside his father Donald and sister Ivanka. Outgoing and charismatic, Mr. Trump talks to peter davis on how he has turned his foundation into a model of how to give a charity maximum impact.
PETER DAVIS:  Let's start with St. Jude Children's Hospital, which is wonderful because they don't turn any children away. What was your first encounter with St. Jude?
ERIC TRUMP: We knew that children were near and dear to our hearts, and we went out and we went to every children's hospital around the country. When we got down to St. Jude, we just saw something that was different; something that's very special. Obviously, one of those things you just pointed out is the fact that no child ever pays, which is amazing. Beyond that, they're a true research institution. They have the largest supercomputers in the world. They've got the smartest doctors in the world, and they want the problem cases, because the problem cases are what teaches them. For St. Jude in 1960, leukemia, if you had it, there was a 4 percent survival rate; now it's [a] 97 percent survival rate. They were the ones who cured leukemia! You walk into the labs now, and they'll have the smartest doctors in the world using the most complicated mathematics. These guys are incredible. 
PD: You also visit the hospital regularly. 
ET: I'm down there three times a year, because I'm on the board, but I speak to numerous parents every time I'm down there and I've developed relationships with them. People don't realize how complex the problem of cancer is. And when you take adolescent cancer, where there's only about 15,000 cases of pediatric cancer in the U.S., no one wants to study that, because there's no money in it for the pharmaceutical companies. Pfizer isn't going to get rich. Of that 15,000, there's 400 different subsects of that—all of these cancers are incredibly rare, they're all in different spots. While there are some that are more common than another, no one's going to produce medicines for those kinds of cancers, because there's just no market for it. So St. Jude has their own pharmaceutical company, and they'll experiment on medicines and test them, then they obviously produce them and distribute them all around the world, and the reason they're able to do that is because of guys like us—people privately fund them and privately fund that research.
PD: And they share their research.
ET: Totally open book—their protocols are what are used by every hospital in the world. In fact, an amazing thing: they're going down to some of the third world countries where obviously they have these same cancers, and they're sending effectively a doctor down there who's diagnosing a problem correctly, in very, very simple places, putting them on the right protocols, and they're bringing survival rates from 3, 4 percent in some of these kind of developing countries, up to 80 percent, 85 percent. That educational component, and then making sure that they have the right medicines themselves, and then obviously the follow-up, is literally increasing survival rates by 80-plus percent in countries. They're miracle workers.
PD: That's incredible. Tell me about the wing you're opening at the hospital in 2015.
ET: Our recent announcement was that we pledged $20 million dollars for the Eric Trump Foundation ICU—Intensive Care Unit—at St. Jude. It's the most technologically advanced ICU for children in the world—the first hospital in the world to have a proton beam dedicated directly to children. Effectively, if you have a child that has a tumor in their head, you can go in and remove it, but that's really risky because obviously you're dealing with brain tissue. The only way to cure that right now is radiation, but when conventional radiation therapy comes out, it's like shining a flashlight on your head. It goes through, kills everything on the way in, kills everything on the way out. It also happens to kill the tumor. What they're finding is kids going through radiation treatment are losing about 20 percent I.Q. points, so you have a perfectly normal kid, other than the fact that they were dealt a short straw, which is cancer, and they're killing the tumor, but you're also losing serious I.Q. off a child. Which isn't acceptable. And so there's new technology called proton beam, and these machines are $150 million—they're incredibly expensive—but they're able to shed, using massive amounts of electricity, protons off of water molecules, and they can control protons. Protons have almost zero energy until they hit a certain point, and then there's a massive spike of energy, and then there's no residual. So what they're able to do is literally use a proton, and go in and erase [a] mass tumor in the head because there's hardly any energy coming in. Depending on the amount of energy that they pump into it, they control the depth of where that energy spike is, and there's no residual coming out the back. They're finding that they can literally go into children with these awful tumors and hit that tumor while the kids are hooked up to a CAT scan, literally three dimensionally go in there and actually erase solid tumors.
PD: Do you have anything planned when the wing opens?
ET: We're going to do a major ribbon-cutting at the hospital, and it'll be a lot of fun. For us, that's going down there in jeans and a polo and getting together with all the little kids and the families, and just going out and eating ribs, and doing what you do in Memphis. Spending time with the families and the kids and the doctors. It really is a family down there.
PD: You minored in psychology at Georgetown. Has that helped in terms of dealing with people that have terminal illnesses?
ET: Psychology is an amazing thing, and the reason psychology is amazing is, traditionally, I've always been a pretty black-and-white guy—where it's right or wrong, it's black or white. I think the more you study psychology, the more you realize it's really not. That the gray areas, somewhere in between, probably comprises 98 percent of true life, and it's not really right or wrong. Psychology changed that way of thinking for me a lot. These kids are the most beautiful kids in the world and the most precious things that we have in our society. I'm 30 years old; if I get cancer right now, so be it. I had a great life, it's been fantastic. But many of these kids were born and they've never seen the proverbial light of day. They've never made it outside of a hospital room. They're being attacked simply because they drew a short straw.
PD:  You started the foundation at age 23. Do you think there are more young people getting involved in charitable organizations than ever before, or has it always been that way? In New York, people associate these things with an older generation.
ET: It's a great question, and my answer would be I certainly hope so. I think everybody should be involved in charity, especially the people who can make a difference. I have the ability to raise $2 million a year, and that's because we have the fortune of having the assets. I'm a pretty moral guy, and a charitable guy, and I wish more of that happened. But I wouldn't rule our generation out. There are a lot of good people.
PD: I saw one of the awards that you had was A Day with Bill Clinton, which I would definitely want to win.
ET: Every year he donates that. A Day with Bill Clinton: follow him around, hang out with him, have lunch with him—and every year we sell it for $120,000, $160,000. He's the nicest guy in the world. He's a great friend of my father's, our family, and it's just because we had that relationship, we can call him in and call in a favor. We're very lean. You start putting all these pieces together, and it just turns into this snowball where anything we can sell, we'll monetize. Any opportunity to raise money, we will. Any favor we can call in, we will. And it's created this community that surrounds this company, with one mission, and that's to support St. Jude.
PD: Do you think that your background in business has helped grow this charity?
ET: In five years, we raised $6 million. It is a business; it's become a major, major business. Most businesses don't have revenue of $2.5 million coming in every year. It's pretty incredible. So I'd certainly hope so, but again, I think it's a business, but it's a business that's supported by a business, and it's a pretty special thing.
[NOTE: Eric Trump's sister, Ivanka, is married to the publisher of The New York Observer.]