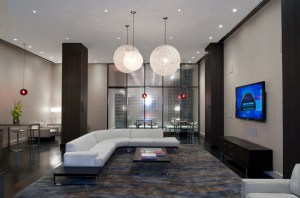 New York is a renter's town. Has been and probably always will be. That's just one of the things that sets us apart from the rest of America. About 70 percent of the city's residents are renters. And to throw another rather surprising number into the mix, only 10,000 to 12,000 apartments are sold every year. That leaves a lot of rental activity to fill out the residential real estate universe.
The reasons for the high percentage of renters are manifold. The hurdles to buying are high, and New York is a magnet for the young, the ambitious and the transient. And then, as Kathy Braddock, co-founder of Rutenberg Realty, points out, those New Yorkers who have been lucky enough to have great deals on rentals (or purchases, for that matter) never ever leave, because they know they can never replicate that deal.
All of which contributes to a tight rental market that can be incredibly difficult to navigate. For one thing, says Ms. Braddock, there is no one central master listing service for aspiring renters to consult. "Mom-and-pop rentals, smaller, quirkier apartments, perhaps walkups in townhouses are never listed," she says. Then there are the financial hurdles, such as 15 percent to a broker to be amortized over the life of the rental, and many buildings requiring applicants to make at least 40 times their rent.
The rental market ebbs and flows, much like the stock market. And just as the Dow has reached new highs of late, the rental market is heating up as sales increase, says Ms. Braddock.
Rents had been relatively flat for a while, according to The Marketing Directors, a development advisory and master property marketing and sales force that works on behalf of owners and builders of new homes. "The unprecedented growth rates from 2010 to 2011 and into 2012 have stabilized," say co-founders Adrienne Albert and Jacqueline Urgo. "In the past year, rental values for apartments in attended lobbies have increased 2 to 4 percent, depending on the product type."
Some other useful facts for rental seekers offered by The Marketing Directors include:
• The average asking price is $2,740 per month for a studio, $3,915 for a one-bedroom and $6,050 for a two-bedroom (attended lobby).
• One-bedrooms continue to outperform both studios and two-bedrooms.
• Desirable areas like the East Village and the West Village still rate among the top places to live.
• In the coming 12 to 18 months, a number of new rental buildings will be brought to the market specifically on the Upper West Side and in Midtown West (Hudson Yards).
As for the Upper East Side, again courtesy of The Marketing Directors:
• There have been no new rental developments in the heart of the UES. The most recent development is 1214 Fifth Avenue, which is asking in the high $60s to low $70s per square foot.
• In February 2013, there were 804 available apartments to lease asking an average of $3,450 per month; 45 percent of the active listings are one-bedrooms.