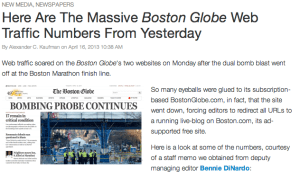 Yesterday was, unfortunately, a big day for news, but as with any disaster, certain words we use all the time suddenly become inappropriate.
FishBowl NY posted today, explaining the sudden rise in traffic for the Boston Globe website in the lede of the piece.
"Web traffic exploded on the Boston Globe's two websites on Monday," Alex C. Kaufman wrote.
But that word, like so many others, has taken on literal meaning in the wake of the actual explosions at the Boston Marathon.
Commenters were quick to voice their disdain. "Um, seriously!?!?! ugh this website is the worst," one wrote. "Bad lede," opined another.
Mr. Kaufman, a former reporter for TheWrap.com, started yesterday as co-editor of Fishbowl NY. We would call it a rookie mistake, but it is one that even veteran reporters fall prey to.
"Editor's Note: An earlier version of this post mindlessly used the verb 'explode' to describe the sudden rise in traffic," Mr. Kaufman wrote. "This was poor judgement on my part and I deeply apologize."
At least Mr. Kaufman, on his second day at his new post, had the presence of mind to take responsibility for the unintended, awkward double meaning.
For the record, Boston.com's traffic was very, very good. But for all the wrong reasons.