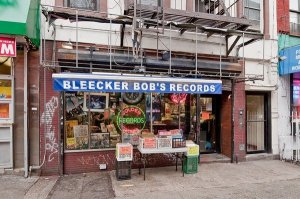 It's news certain to bring despair to vinyl aficionados, Village old-timers and anyone with a soul: cluttered, beloved West 3rd staple Bleecker Bob's Records has closed down after 46 years. A frozen yogurt chain is slated to open in its place.
The legendary music store sold its last record this Saturday, DNAinfo reports. Which would be bad news even if the Village weren't already inundated with frozen yogurt shops and if the funky culture purveyors that make the Village the Village hadn't been bloodying their fingernails trying to hang onto increasingly unaffordable leases for more than a decade.
But at least we can take some small comfort from the closure: rather than "teaming up" with Forever Frozen Yogurt, lending the Chicago-based chain an air of authenticity that it obviously hadn't earned, Bleecker Bob's has opted for a dignified death.
With a dearth of other options, the store's management had, after losing its lease to the deep-pocketed fro-yo joint, considered committing itself to an unhappy marriage with Forever Frozen Yogurt. The chain was keen to cash in on Bleecker Bob's Village cred, telling DNAinfo that a partnership was being discussed that would incorporate the record store's design elements into the frozen yogurt shop with a small area set aside for selling music.
"We try to keep every store unique and different from each other," the yogurt franchise's CEO told DNAinfo. "It's about appreciating the neighborhood itself and the elements that are special for that neighborhood."
But in the end, the record shop apparently decided that it didn't want to help shill desserts to pseudo dieters. There is, after all, a difference between changing with the times and changing altogether. As one of the store's managers said to DNAinfo: "The Dead Boys [album] is still going to sell for $15. It's not going to sell for $100, Louis Vuitton-style." (More like $2,000, Louis Vuitton-style.)
Nothing lasts forever (even Forever Frozen Yogurt may someday meet its demise), but there is something unsettling in the recent spate of small business closures: namely, that the businesses were popular, had been popular for years, and were likely to continue being popular had it not been for huge rent increases.
While every other store that opens in Brooklyn seems to be defined by some bizarre culinary obsession (chutney, mayo, pickles), affinity for anything but making as much money as possible is proving fatal for Manhattan entrepreneurs. Businesses are there to make money, of course (and make money they should), but that is not all they are or can be.
Bleecker Bob's loss resounds not only in all the traditional ways—in New York our communities and lives are defined by our haunts and habits, the streets and stores, cafes and bars where we spend the bulk of our free time—but also as a sign that a way of life is disappearing.
The half-hour documentary on the record store's last days (which you can watch on the store's blog) opens with a quote: "Music tells you about a moment in time." Likewise, a neighborhood's stores and shops also tell you about a moment in time and Bleecker Bob's moment in the Village has, quite obviously, passed. This is the moment for frozen yogurt chains and Chipotles, Duane Reades and Sephoras.
Being able to rummage through records at 2 a.m. (Bleecker Bob's stayed open until 3 a.m. on Fridays and Saturdays) isn't everything, but grungy clubs and book stores and the kind of people who like to dig through records after midnight have, over the years, lent Manhattan much of its appeal. In addition to the fresh-faced NYU students and the wealthy townhouse dwellers, it helped make the Village the diverse, appealing place that it is. Or, at least, that it was.