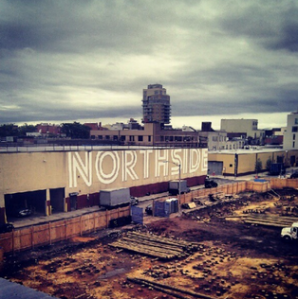 Brooklyn's own SXSW will be swiftly upon us, and with it comes an impressive lineup of speakers for the NExT conference, a tech-focused forum slated to run during the Northside Festival. Heavy hitters from the industry include various high-ranking executives from Kickstarter, Thrillist, Uber and Turntable.fm (just to name a few). The talks run from June 13 and 14, the beginning part of Northside's eight-day event.
At more than a dozen panels, discussions will feature Warby Parker cofounder Neil Blumenthal, Ben Lerer from Lerer Ventures, OMGPop founder Charles Foreman, and OKCupid cofounder Christian Rudder. There's also a panel between Uber CEO Travis Kalanick and David Yassky, the commissioner and chairman of the city's Taxi and Limousine Commission.
Nearly 80,000 attendees are expected to attend this year's "discovery festival." The panels take place at the Brooklyn Brewery and hipster enclave Wythe Hotel, while the music and art activities are located at McCarren Park. Badges cost $250.
The event was concocted in 2009 by brothers and L Magazine founders Scott and Daniel Stedman. The Brooklyn-centric festival initially focused on music, art, and filmmakers, but pivoted its focus to be more expansive as they saw the borough's influence grow.
"A few years back, people would be graduating college and launching bands and today we feel as often one roommate will be launching a band and the other will be launching a new app or a new website," event cofounder Scott Stedman told Betabeat last year. "They'll be living together and hanging out together and they often come out of Brooklyn and identify themselves as New York."
The full slate of speakers and panels are below:
Uber and the NYC Taxi Commission on Paving the Road to Disruption

Speakers: David Yassky, Commissioner/Chairman of NYC Taxi & Limo Commission and Travis Kalanick, CEO Uber

Fireside Chat with Warby Parker

Speakers: Neil Blumenthal, Co-Founder and Co-CEO of Warby Parker

What I Would Do, If I Could Do it Again- Lessons Learned from Building Behance

Speakers: Scott Belsky, Vice-President of Community Adobe, Head of Behance

Surviving the Trend: Grow Your Business Right & Sustain with Charles Adler

Speakers: Charles Adler, Co-founder Kickstarter

The Road to Acquisition Part 1

Speakers: Ben Lerer, Founder Thrillist / Lerer Ventures, Wiley Cerrilli, Vice-President/General Manager SinglePlatform, David S Kidder, Co-Founder/CEO Bionic, and Charles Foreman, Founder OMGPop

Exploring Data Science

Speakers:  Hillary Mason, Chief Scientist Bitly

Fireside Chat with TurnTable.fm Founder Bill Chasen

Speakers: Bill Chasen, Co-Founder of Turntable.fm

The Trends of Love: OK Cupid Data Science

Speakers: Christian Rudder, Co-Founder OKCupid

Building on the Shoulders of Giants

Speakers: Mattan Griffel, Partner GrowHack, Kelsey Falter, Founder/CEO Poptip, Jon Baltz, VP/Co-Founder of INDMUSIC, Brandon Martinez, Co-Founder/CEO of INDMUSIC

How SMBs are Creating Big Business for Startups
Speakers: Trevor Sumner, Founder/CEO LocalVox, Zephrin Lasker, Co-founder/CEO Pontiflex, Court Cunningham, CEO Yodle

The New Educators: Learning in the 21st Century

Speakers: Brad Hargreaves, Co-Founder General Assembly, Jason Goodman, CEO 3rd Ward

The Ultimate Balance Between Tech and Design

Speakers: Anthony Casalena, Founder/CEO Squarespace, Shane Snow, Chief Creative Officer Contently, Georg Petschnigg, Co-Founder/CEO FiftyThree, John Jacobsen, Head of Engineering Quirky

Metrics the CTO Actually Cares About – Lightning Round

Speakers: Richard Talens, Chief Groth Officer/Co-Founder Fitocracy, John Pavley, CTO Huffington Post Media Group, Vanessa Hurst, Founder at CodeMontage, Alex White, Founder Next Big Sound, Kurt Schrader, CTO Intent Media

Scaling Technology Teams from 1 to 30+

Speakers: Gil Beyda, Founder Genacast Ventures, Ian White, CTO/Co-Founder Sailthru

CTO Case Study

Speakers: Liz Crawford, CTO Birchbox

Making the Leap from Series A to Series B

Speakers: Brian Schecter, Co-Founder/co-CEO HowAboutWe, Vinicius Vacanti, Co-Founder/CEO Yipit, David Blanke, COO and CFO at Sailthru, Thatcher Bell, Managing Director at DFJ Gotham Ventures