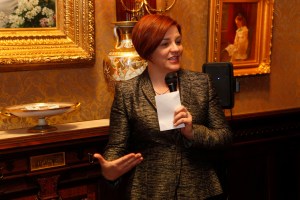 Last Monday, five NYC power couples—and one real estate tycoon—opened their homes for dinner parties as part of the Parties of Your Choice Gala for the Women's Campaign Fund, a night that began as a politically charged reception but slowly morphed into a cross between Million Dollar Listing and MTV Cribs.
"Our research shows that as soon as you talk about a woman's appearance and what she's wearing, she loses 12 points," Siobhan "Sam" Bennett, president and CEO of the Women's Campaign Fund, told the Transom at the opening reception at Christie's. "Even if you also say great things about her, like Obama's comment about Kamala Harris, she drops like a stone."
Meanwhile, a giggly Christie's auctioneer paused the bidding on a tour of the capital with Tuisi Gabbard to tell the current bidder, "I love your dress! It's very cute!" apparently not having received the memo.
There was no mistaking artist Peter Max's West 65th Street studio, our first stop of the night: colorful pastel paintings of everyone from MLK to Brooke Shields lined the wall, along with a photo of the $100 million plane he painted for Continental Airlines. "I don't mean to sound like I'm bragging, but I find that people are a bit mesmerized when they come here," said his wife, Mary Max.
The Transom wondered whom Ms. Max would be voting for in the upcoming elections.
"There's a woman running for mayor, but I'm not voting for her," she said, leading us past a life-size pastel blue statue of a cow, before turning to scold her vegan husband, who was picking at some nuts and berries: "Can we not eat right now?"
Our conversation then turned to an underpublicized female reproductive rights issue: "There is a serious lack of knowledge about how much dairy cows are abused. They're constantly impregnated. I wouldn't want to be impregnated all the time. They become a milk machine."
(MSNBC's Krystal Ball, who is pregnant with her second child and had emceed the reception at Christie's, could likely relate, having told New York magazine that on her daughter's first night home she nursed "for, like, eight hours.")
In stark contrast to the clean, open space of the Maxes' studio was the Loeb townhome—well, one of their five homes—on East 72ndStreet between Park and Madison, which Christine Quinn initially thought was a museum when she passed it by, nearly an hour late.
A gold-lacquered elevator led to six different floors, none of which was left uncovered by some sort of busy, decorative pattern with gold-leaf undertones. The hostess, Marjorie Loeb, said her involvement with the WCF was initially unintentional.
"I became involved by accident six dinners ago. My sister-in-law originally volunteered and she didn't have enough room, and it's, like, important," she explained.
Would Ms. Loeb be voting for any of the women running this year, the Transom wondered?
"Not that I know of yet. Although, Christina [yes, Christina!] Quinn will be here, so I'll get to meet her and see what I think," she said.
When Ms. Quinn finally arrived, she told the room that they need someone in office who doesn't accept no for an answer and has the tenacity to get things done. "There's no other business in the world where you keep your job when you don't do anything," she said.
"That's not true," Michael Loeb interjected, suddenly materializing beside the Transom and making no attempt to speak in hushed tones. "There are plenty of jobs like that."
A very good-natured little dog named Nugget kept trying to bound up the Persian-carpeted steps to join the party but was ushered back down by various guests. In all fairness, he was severely underdressed in a simple knit orange sweater.
With only time for one more stop, we headed next to Eric Hadar's home on East 65th Street, which he described as having been "all black lacquer and [looking] like a catering hall in Great Neck," when he arrived in 2002. Mr. Hadar brought in designer Muriel Brandolini to create an Oriental-style vibe throughout the apartment. An aquarium divides the dining room, which is decorated with colorful rugs, lots of bamboo and bird sculptures.
"I've traveled extensively in Southeast Asia and have always been drawn to the décor. I think it's calming," Mr. Hadar said.
He was slightly less involved in that evening's dinner planning, though. "Oh boy, you know, I have no idea what we're eating or drinking," he said.
Turned out: eggplant, lasagna and grilled vegetables.