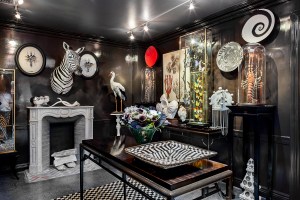 So what do you get the New Yorker who already has everything? According to Christopher Gow and Jamie Creel, something from their store.
Creel and Gow, which specializes in objects that come from—or are inspired by—Mother Nature, offers a contemporary twist on the Renaissance idea of a Cabinet of Curiosities or Wunderkammer (literally, "chamber of wonders").
Originating in Europe in the 16th century, these eclectic collections of artifacts and natural objects were a way for wealthy collectors to catalog and explore the world. They also served as status symbols to show off their owner's erudition, worldliness and social standing. "The equivalent now is having a fancy car or a beach house or ski house, showing off a little bit," suggests Mr. Gow.
For Creel and Gow's well-heeled clientele, who already have fancy cars and beach houses to spare, the store's whimsical, one-of-a-kind wares can set them apart from their Park Avenue neighbors. "It's supply and demand," explains Mr. Gow. "And the demand in New York City is huge for the new, for the latest thing that no one else has."
Tucked away on a quiet, leafy street at East 70th and Lexington, in the former stables of architect Grosvenor Atterbury's townhouse, Creel and Gow feels more like the private library of an Old World king or emperor than your average retail destination. The intimate space abounds with exotic visual stimuli: majestic stuffed birds fanning their plumage inside glass vitrines, rows of shelves glinting with silver-coated seashells and deconstructed crustaceans encased in bell jars. Multicolored woven tapestries and rich green malachite carvings seem practically to spill off the shelves.
Creel and Gow opened its doors in 2012 as a reinvention of Mr. Gow's previous business, Ruzzetti and Gow. A British expat who honed his aesthetic sensibilities as an expert in 19th-century sculpture at Sotheby's, Mr. Gow first entered the natural-wonders market when he began to import silver-coated seashells from Italy in the mid-'90s. "People have such complicated, convoluted lives that something that's so simple, so pure, so natural and so beautiful—wow—it just evokes that serenity and everyone marvels at it," says Mr. Gow of the seashells that would become Ruzzetti and Gow's star attraction when the store opened for business in 1997.