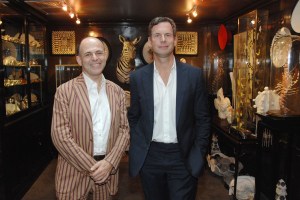 In 2010, Jamie Creel approached Mr. Gow through a mutual friend and suggested that they go in to business together. A high-society fixture related to the Gardiners of Gardiners Island and the Colgates of Colgate-Palmolive—and the brother of Larry Creel, who became Page Six fodder after an affair with designer Tory Burch—Mr. Creel flew the insular Manhattan coop 16 years ago and moved to Paris, where he opened a soap and candle store. An avid collector and traveler, Mr. Creel came up with the idea while on a trip to the Galapagos for a store where everything was from or inspired by nature—as it happens, a store quite similar to the one Mr. Gow was already running on the Upper East Side.
While it took some coaxing to get Mr. Gow to take on a partner, Mr. Creel was ruthlessly persistent. "It works very, very well, because our strengths are completely in different places," Mr. Creel says with a laugh. "Christopher is very detail-oriented and he has a business background, and I'm much more of an adventurer."
Although the store's contents can feel a bit like an eclectic grab bag, there is rhyme and reason to its inventory. Messrs. Creel and Gow focus mainly on things that can be given as gifts, as well as home decor accessories. A large proportion of their clients are decorators who come in seeking that special something. "The common elements are color, texture, form and shape, something almost photogenic," Mr. Gow explains.
"If I've seen it before, I'm not going to be interested in it," Mr. Creel adds. "It has to be really special and unique."
Most of the items within the store have been plucked directly from nature, including pieces of coral, minerals, fossils and taxidermy. While some more squeamish animal lovers have been known to object to its menagerie of stuffed creatures, Creel and Gow's ethos is sustainable and cruelty-free, and the store only sells animals and corals that have died naturally.
Along with beautiful things from nature, the store showcases items sourced from around the globe, evoking a globe-trotting sensibility. "If you don't have the luxury of time to run around the world and find wonderful things when you travel, we'll do that for you," says Mr. Gow.
Mr. Creel does much of his treasure-hunting at home in France, where antique stores and auction houses are a veritable boon for collectors. He frequents Parisian auction house Drouot ("It's like France's attic," he says) on a daily basis, and makes regular trips to places like Morocco to South Africa. "For me it's fun, because I'd be doing it anyway for myself," he says. "Now I'm doing it for the store."
Mr. Gow, who speaks French and Spanish and is in the process of learning Arabic, relishes traveling to off-the-beaten track destinations like Yemen and Uzbekistan. Most recently he was traveling around East Africa looking for blue Celestine stones in Madagascar, textiles in Mauritius and architectural fixtures in Zanzibar. "The way I do it is, I pick a far-flung country that no one else would want to go to, and I pick a remote place where I have an idea that there may be something," he says. "But not something I've found on the Internet that would be easily accessible."
In Mr. Gow's view, objects are most desirable when they are not only beautiful and sourced from an exotic locale, but when their sale can help the indigenous population that produces them. And above all, he says, he chooses items that are "not just a pretty thing, but also a great story. We think we're not just a purveyor of beautiful objects—it's like we're bringing the world to our clients."