Something for Everyone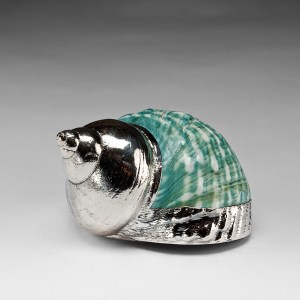 Christopher Gow leads us on a whirlwind tour of Creel and Gow's offerings. Prices range from as little as $20 to as much as $30,000.
On the high end of the spectrum, collectors can get their hands on the ultimate conversation piece. "Every curiosity cabinet needs a narwhal tusk," explains Mr. Gow of the seven-foot white spiraled tusk mounted at the back-left corner of the store. Such a tusk, which is actually the elongated upper-left tooth of the midsize arctic whale, was once presented to Queen Elizabeth I as proof of the existence of unicorns. While the case of mistaken identity was eventually cleared up, narwhal tusks would grow to be a fixture in curiosity cabinets across Europe throughout the 16th century. Nowadays they are extremely rare—this is the last of eight that Mr. Gow bought from a collector in Nashville, and it retails for an impressive $30,000.
The other item hitting the $30,000 mark is not so much a wonder of nature as an impeccable display of human artistry: a detailed replica of the Royal Brighton Pavilion made from 40,000 matchsticks, which Mr. Creel acquired at an auction in France and kept in his private collection of architectural models for a time.
On the other end of the price scale are the dainty pewter wishbones, which retail for just $20 apiece. Mr. Gow recalls that during the 2008 election, as the buzzwords of hope and change were flying around and the recession had put a dent in people's wallets, many people opted to give these lucky tokens in lieu of regular gifts. In the box, Mr. Gow used to include a note invoking President Herbert Hoover's promise of "a chicken in every pot." "It said: 'this is what is left of the chicken in every pot,'" explains Mr. Gow with a chuckle.
Shoppers whose decorating sensibilities are more National Geographic than Neiman Marcus might be more interested in one of the many wild creatures perched throughout the store. A fez-wearing stuffed lion that was deaccessioned from a museum in Montana was recently sold for $15,000, but you can still get your hands on a majestic white female peacock, which retails for a friendlier $3,800. But shopping for unfamiliar fauna can prompt some unusual urban decorating questions.
"It's funny, because if it was any other head, it would be a country thing," suggests Mr. Gow of a $5,000 Zambian zebra head mounted on the back wall. "But the zebra head, because of the black and white, it's so New York," he says. "It's sophisticated enough to be in a New York apartment and adds a little twist to the apartment, but the chicness of the black and white goes with most decors."
Those looking for something more at home in their beach house can turn to one of the many deconstructed lobsters displayed in glass cases throughout the store. Made by an artist whom Mr. Creel discovered in the South of France, these sculptures utilize a 19th-century technique that was often used in museum displays, in which items such as skulls were deconstructed and held apart with copper wire in order to showcase each individual component. These anatomized crustaceans range from $2,800 to $12,000—the priciest shellfish this side of Le Bernardin.