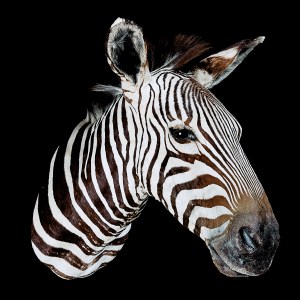 For those who prefer their dead creatures to be of an older vintage, Mr. Gow points out a 38-by-31-inch 20-million-year-old fossil from the Miocene period, a rare piece in which a whole cluster of sea urchins have been fossilized in one plane. "The thing that's most fascinating to me is how little it has evolved," says Mr. Gow, gesturing toward a much more recent incarnation of a sea urchin, coated in silver, in a glass display case. "Twenty million years later, it's exactly the same," he says. These more modern urchin descendants, as well as the silver-coated seashells, are designed in a workshop in Rome and range in price from $40 to $1,500.
The seashells, like many of the items in the store, offer a unique decorative twist on a natural object. "With Mother Nature, you can't order something new from her, and the world has become so small that to find something new that's acceptable and palatable and presentable is a challenge," Mr. Gow says, "so we mount it, we embellish it, we modify it in a little way to present it in a different light."
An item emblematic of the sort of unusual twist that Creel and Gow specializes in is a two-inch skull carved out of a billiard ball, retailing for $280. The Balinese artist who designed the skull usually does his carvings out of North American moose antler, which resembles ivory, but he decided to get creative for this particular piece. "A billiard ball is just such a normal, mundane thing, but to carve a beautiful skull out of it, it's a little twist and its anecdotal," Mr. Gow says.
As with most of the objects in the store, the skull has a story behind it. Skulls have long been a fixture of traditional Cabinets of Curiosities, serving as memento mori, symbolic reminders of mortality and the certainty of death. And like any true Cabinet of Curiosities, Creel and Gow has its share of skulls: carved from jet, moose antler and crystal.
Amidst the ceaseless consumerism of contemporary life, in which cars and clothes and technology come in and out of vogue with the seasons, these sorts of memento mori—simple, beautiful objects from the past, from nature, or from a faraway land—can serve as a reminder of the fleeting contingency of our own moment of existence.
"People who buy these objects are showing that they recognize ashes to ashes, dust to dust—we're just here temporarily," Mr. Gow says, gently fingering the skull's smooth top. "And a reminder of that, to seize the day."