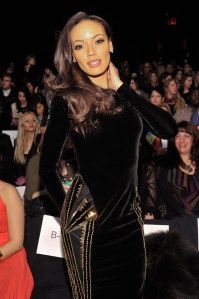 THIS YEAR, THE UNDER-40 CROWD IN NEW YORK has become more philanthropic than ever: battling diseases, feeding the hungry and supporting the arts, among other charitable work. Lending their famous names and, more importantly, their tireless, devoted hard work, these 20 philanthropists under 40 tell Lily Chen about their charities and inspire the city to give back.
Selita Ebanks
Since entering the world of high fashion at the age of 17, Selita Ebanks has made a name for herself as a world-renowned model, representing brands such as Ralph Lauren, Levi's and Victoria's Secret. Not only is Selita a supermodel, she is also an active philanthropist, supporting organizations such as Shine on Sierra Leone and New Yorkers for Children, as well as working recently with the Voss Foundation, which aims to provide fresh water to and empower women of Africa. Selita was selected as the 2012 Voss Foundation Women Helping Women Honoree.
Lauren Bush Lauren
The niece of former President George W. Bush (and wife to David Lauren, Ralph's son), the cutely named Lauren Bush Lauren is a fashion model and designer. In addition to modeling for Vogue and Tommy Hilfiger and launching her own fashion line, Lauren Pierce, Lauren started her philanthropic efforts with the FEED Projects in 2007. As an honorary spokesperson for the United Nations World Food Program, Lauren supports the FEED Projects by selling FEED products, bags, duffel bags, totes, etc., and donating a portion of the proceeds to providing food for children in Africa. Check out her party photos: you will never see Mrs. Lauren sans a FEED bag, whether a daytime tote or a sequined evening clutch. Lauren's latest project is an enormous collection for Target that hits stores this June.
Alexis Feldman
Alexis Feldman serves as director of the family-operated real estate company Feldman Realty Group and is an active philanthropist supporting charities such as the Mentoring Partnership of New York and the Cancer Research Institute. Serving as chair of the Young Philanthropists Council of the Cancer Research Institute, Alexis is committed to supporting research in cancer immunology through giving and volunteering.
Gabby Karan De Felice
The daughter of famous designer Donna Karan, Gabby Karan De Felice is establishing herself both as a restaurant owner and as a philanthropist, through her support of the Rush Philanthropic Art Foundation. The Rush Foundation was founded in 1995 with the goal of exposing inner-city youth to art and providing opportunities to underrepresented artists.
Kasseem 'Swizz Beatz' Dean
Better known as "Swizz Beatz," Kasseem, the husband of Alicia Keys, is a hip-hop recording artist, record producer, fashion designer, painter and philanthropist. Born and raised in the Bronx, he is recognized as one of the most important hip-hop producers of all time. Utilizing his fame for good, Kasseem was named the first Global Ambassador for The Fund for Health and Hospitals Corporation in New York City, which he helps by building awareness and raising money. And he just might deejay a charity gala, too.
Amanda Hearst
Heiress to William Randolph Hearst's media empire, blond and beautiful Amanda Hearst is a New York socialite, activist, fashion model, Marie Claire market editor and defender of animals. Motivated by her love of animals and her beloved rescue pup Finnegan, Amanda founded The Humane Society of the United States Friends of Finn Committee, which is dedicated to stopping the inhumane treatment of dogs in puppy mills. Through awareness-building and fund-raising events, Amanda hopes to lead the campaign against puppy mills.
Adam Lippes
Born and raised in Buffalo, N.Y., Adam Lippes is the founder and creative director of the contemporary-cool fashion collection ADAM. Mr. Lippes's career in the fashion world began at Polo Ralph Lauren and quickly advanced from there when he was inducted to the Council of Fashion Designers of America. Mr. Lippes is involved in many charities, including the Sandra F. Lippes Foundation at the Roswell Park Cancer Institute, and he serves as a partner of the New York Humane Society. His work with the Humane Society inspired his ADAM Loves Dogs "dog adoption day" charity event, with proceeds from all merchandise sales going to the Humane Society.
Rachel Roy
Renowned fashion designer Rachel Roy began her career in fashion at the young age of 14. Besides being inducted into the Council of Fashion Designers of America, Ms. Roy has also received a Bollywood Industry award, has appeared on The Oprah Winfrey Show, and is involved in several charities including Orphan Aid Africa, Heart of Haiti and Fairwinds Trading. These organizations are dedicated to helping improve the lives of vulnerable children and women.
Chelsea Clinton
Daughter of former U.S. President Bill Clinton and former Secretary of State Hillary Clinton, Ms. Clinton has degrees from Stanford University, Oxford College and Columbia University, and she currently serves as special correspondent for NBC News. If that wasn't impressive enough, she is also very active in the Clinton Foundation and The Clinton Global Initiative, which are dedicated to bringing together leaders from around the world to tackle global problems, as well as in the Walkabout Foundation, a charity committed to finding a cure for paralysis.
Nigel Barker
Best known for his role as a judge and photographer on the reality show America's Next Top Model and now The Face, Nigel Barker is also an author, filmmaker, former model and philanthropist. He actively works with the Make-A-Wish Foundation, the Do Something organization and the Elizabeth Glaser Pediatric AIDS Foundation as a celebrity ambassador. He is an advocate for United Nations Foundation's Girl Up Initiative, and works as a campaign photographer for the Fashion Targets Breast Cancer organization. He's also the best-looking man with a shaved head on television.
Jon Lanznar
Jon joined the marketing and branding world in 2008 at Interbrand Corporation, helping shape the vision and strategy for numerous Fortune 500 companies and their flagship brands. Inspired by parents actively involved in philanthropy, Jon began volunteering for ORT in 2008, serving on the national marketing committee overseeing the organization's rebranding and marketing activities. Jon currently serves as Vice President of ORT's national next generation initiative and has spearheaded its growth from one to seven sustainable chapters around the nation in the pasteight months.
Julie Macklowe
Style icon and V Beauté founder Julie Macklowe made her career as a former hedge fund manager, and she invests in startup fashion businesses and young designers. In addition to sitting on several committees, including the Costume Institute at the Metropolitan Museum of Art (where she is always a head-turner on the red carpet), Ms. Macklowe is also actively involved in VH1's Save the Music Foundation, which supports musical education for children, in various ways, including donating proceeds from her V Beauté beauty line.
Bettina Prentice
A born and bred New Yorker, Bettina Prentice is known in art and society circles for her knowledge of fine art and her dedication to charity. Working at the renowned Yvon Lambert Gallery, Bettina gravitated toward a new career path, launching her own PR company, Bettina Prentice Communications. In addition to her professional work, Bettina works to help the homeless population in New York, championing the Coalition for the Homeless, and she helps to organize the annual ArtWalk fund-raiser, which boasts Alec Baldwin, Coco Rocha and Richard Gere as regular supporters.
Alejandro Santo Domingo
Managing director of Quadrant Capital Advisors and member of the board of trustees at the Metropolitan Museum of Art, the handsome Mr. Santo Domingo (dubbed the South American JFK Jr.) is ranked No. 97 on Forbes's list of billionaires. In addition to his success in the business world, Mr. Santo Domingo gives back through his family charity, the Fundación Mario Santo Domingo which is dedicated to developing programs for Comobia's poorest members of society and also his charitable work benefitting The Brazil Foundation, which seeks to improve the social and civil conditions in Brazil by supporting various projects and giving grants.
Michelle Harper
Born in Columbia but raised in New York, Michelle Harper is known for her fearless fashion sense, which landed her a front-page profile in The New York Times Styles section. Aside from serving on several boards, including the board of directors of the Fashion Institute of Technology's Couture Council, Michelle demonstrates her passion for philanthropy through ACRIA.
Lydia Hearst
Lydia Hearst, the great-granddaughter of William Randolph Heart and heiress to the Hearst publishing fortune, is an actress, successful fashion model and columnist. She was named Model of the Year at the 2008 Michael Awards, has written for The New York Post's Page Six Magazine and is an active supporter of the nonprofit Operation Smile. Lydia supports Operation Smile's efforts to heal children with facial deformities such as cleft lips or cleft palates, and she goes on frequent mission trips to visit hospitals and children who are undergoing life-changing operations.
Kyle DeWoody
Co-founder and creative director of Grey Area, an artist representation company, Kyle DeWoody is an accomplished freelance designer, curator, consultant and writer. She is on the boards of various art institutions and is most known for her philanthropic work with the Whitney Museum, helping to raise over $2 million to support the museum at its annual Gala and Studio party last December.
Amar'e Stoudemire
Best known as the forward and center for the New York Knicks, Amar'e Stoudemire is a Florida native who began his basketball career right out of high school. He has won many notable awards, including 2003 NBA Rookie of the Year Award. Aside from his basketball career, Mr. Stoudemire pursued his philanthropic interests in 2003 by starting the Each One, Teach One foundation, a youth outreach program created to help at-risk youth by providing education, support, supplies, tools and donations.
Jesse Cole
Jesse Cole, accomplished financier and CEO of Haute Hippie, is a born and bred New Yorker. After graduate school at Columbia University, Jesse joined ISI Group, the top-ranked think tank, where he worked under renowned economist Ed Hyman. He then moved to Pali Capital before starting his own financial services company, Schonfeld IBS. which grew into a multimillion-dollar company. This success followed him to Merlin Institutional, whose trading department he created and managed. Merlin Institutional was sold to Wells Fargo in 2012 after much success, and Jesse then joined Haute Hippie as CEO. And as chairman of the board of associates for Ronald McDonald House, he will also continue his steadfast commitment to philanthropy.